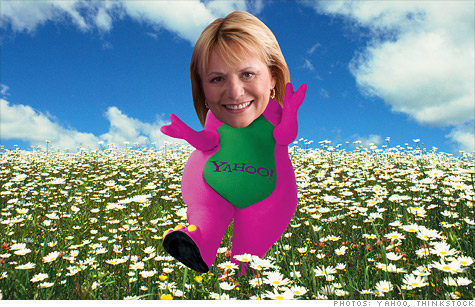 Yahoo CEO Carol Bartz needs to find a way to resolve the problems with key China partner Alibaba. Investors are treating Yahoo as if its on the verge of extinction.
NEW YORK (CNNMoney) -- Move over Barney. There's a new purple dinosaur in town that adults love to hate. Its name is Yahoo.
Yahoo's corporate logo may be a shade of violet but the company has investors seeing red. The stock had fallen about 15% in just the past four trading days, erasing more than $3.5 billion in market value in the process.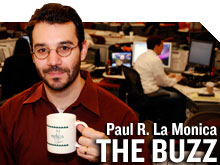 Shares rebounded a bit Tuesday. But the slide is once again raising questions about whether Yahoo really can remain a leader in online media and if CEO Carol Bartz can make things right.
It has been an amazing turn of events for Yahoo (YHOO, Fortune 500), which only a week ago hit a new 52-week high thanks to growing optimism about its investment in Chinese Internet conglomerate Alibaba. Yahoo owns approximately 40% of Alibaba.
Even well-known hedge fund manager David Einhorn of Greenlight Capital had recently taken a stake in Yahoo, citing Alibaba as a main reason why he was bullish.
Yahoo's China headache began last Wednesday. That was a day after it disclosed in an SEC filing that online payment service Alipay, one of the Chinese assets investors thought Yahoo owned a stake in through Alibaba, had been transferred to another company controlled by Alibaba CEO Jack Ma.
The stock plunged Wednesday, and Yahoo sought to clear things up on Thursday. It issued a press release after the closing bell claiming that it, and fellow big Alibaba investor Softbank, were told on March 31 that the transfer took place back in August 2010 "without the knowledge or approval of the Alibaba Group board of directors or shareholders."
But this only made matters worse. Alibaba refuted that Yahoo and Softbank were in the dark. Shares of Yahoo tanked again Friday.
Yahoo and Alibaba tried to put an end to this mess once and for all on Sunday. The two companies issued a joint press release indicating that they were "engaged in and committed to productive negotiations to resolve the outstanding issues related to Alipay."
That didn't help either. The stock slumped again on Monday as investors clearly didn't believe that the release -- which was the equivalent of Bartz and Ma crooning the Barney "I love you. You love me. We're a happy family " song to each other -- really changed anything.
This is not good for several reasons. For one, even if Yahoo didn't truly find out until March 31 about what Ma did with Alipay, investors are wondering why Yahoo waited until May 10 to 'fess up to this fact in its 10-Q filing. The last thing Yahoo needs is a credibility problem with shareholders.
"Where is Yahoo's management in all this? This is a significant part of Yahoo's value," said Ryan Jacob, manager of the Manhattan Beach, Calif.-based Jacob Internet Fund (JAMFX), which owns a stake in Yahoo. "You would think they would be monitoring Alibaba very closely."
But even if you're not interested in the who-knew-what-and-when conjecture, the fact that Yahoo may not have as much of a financial interest in rapidly growing China assets as investors thought is clearly troubling.
Bartz and Ma have not always seen eye-to-eye on what should be done with Yahoo's Alibaba stake. Ma reportedly wanted to buy out Yahoo's investment last year and Bartz reportedly nixed that idea.
And if Ma was able to pull the Alipay rug out from under Yahoo's feet to try and get some leverage, what's to stop him from potentially doing the same with Taobao, another Alibaba-owned asset that it is viewed as the eBay (EBAY, Fortune 500) of China?
Jacob doubts that will happen. He said some of the sell-off in Yahoo this past week is overblown. He argues that Alibaba is just as motivated to find an amicable solution to this as Yahoo, and that Alibaba's bold moves could scare off other foreign investors that may be looking to partner with large Chinese firms.
Still, Bartz has to find a way to clean up this mess soon. Although her contract doesn't run out until January 2013, Yahoo has gone through leaders the way the late George Steinbrenner used to run through managers of the New York Yankees. In the past decade, Yahoo has had four CEOs.
Tim Koogle (it still boggles the mind that Yahoo had a CEO whose surname rhymed with the company that would eventually make Yahoo irrelevant in search) gave way to Terry Semel. He was pushed out in favor of Yahoo co-founder Jerry Yang before Yang handed over the reins to Bartz.
If Bartz wants to get a new contract in 2013, she will need to find a way to actually make money off Yahoo's China assets.
The reason why Yahoo had been a hot stock before last week was because investors viewed it as a stealth version of China dot-com leaders like Baidu (BIDU) or Sina (SINA).
Without China to excite Yahoo bulls, investors may go back to obsessing about how Yahoo looks like a purple dinosaur. It's losing ground to Google (GOOG, Fortune 500) in search despite Yahoo's partnership with Microsoft's Bing. Facebook has emerged as a major threat in the display ad business as well.
"Much of Yahoo's strong stock performance recently had been about the Asian assets," said Rory Maher, an analyst with Hudson Square Research in New York. "Their core business is definitely challenged."
The opinions expressed in this commentary are solely those of Paul R. La Monica. Other than Time Warner, the parent of CNNMoney, and Abbott Laboratories, La Monica does not own positions in any individual stocks.