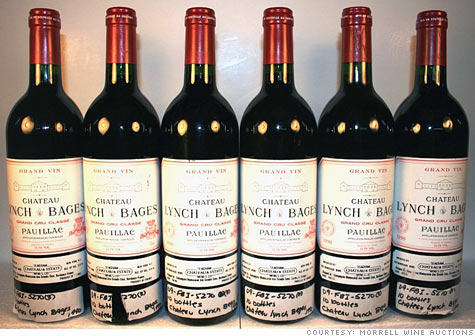 Bernard Madoff's wine collection is up for bid, including this half-case of Chateau Lynch-Bages, starting at $1,200-$1,800.
NEW YORK (CNNMoney) -- Got a taste for Chateau Mouton Rothschild? Bernie Madoff's got a case for you.
New York-based auction house Morrel Wine Auctions will be putting the wines and liquors from Madoff's former mansion in Palm Beach, Fla., up for online bidding Wednesday. A live auction will be held in Miami on June 4, with proceeds going to a fund for victims.
The liquid assets were seized by U.S. Marshals from the home before its sale in 2009. (Madoff clean-up: The $43 million legal bill)
Madoff was better-known as a connoisseur of watches than wines. Nonetheless, his booze selection was extensive and varied. His preference was French wine, but he was also well stocked with scotch and other whiskeys.
The auctioneers have divided the wines and liquors into 59 lots, with the lots ranging from individual bottles to cases of 12. In all, the auctioneers are putting 262 bottles of wine and liquor on the block.
The auctioneers admitted that for some of the bottles, their association with Madoff is more valuable that their contents.
"As artifacts of history they are unique, which is why we have chosen to offer all of the bottles seized, including those which normally wouldn't pass muster and make it into our auction," said Morrel Wine Auctions, in a press release. "Some of the bottles are better viewed as conversation pieces rather than valued for their contents, but conversation pieces they are."
For all his faults, Madoff wasn't cheap. His collection includes booze that's good enough for even the snobbiest of oenophiles.
The most expensive batch is the 12-bottle case of Chateau Mouton-Rothschild, vintage 1996, lot #450. Bidding will begin in the range of $3,200 to $3,800 for the whole lot.
For bidders who can't get their hands on lot #450, there are five additional bottles of the prized claret, sold in lots of one or two bottles. Bidding for a single bottle of Chateau Mouton-Rothschild, 2002, will begin in the range of $220 to $280.
Bidders with a taste for the harder stuff should know about lot #492: a single bottle of The Macallan, 18-year single-malt scotch. Bidding begins in the range of $120 to $150.
The booze was likely used a social lubricant at Madoff's Palm Beach manse, where he lured New York-based millionaires with houses in south Florida into investing in his pyramid-style scheme.
The primary residence of Madoff and his wife Ruth was their $7 million Manhattan penthouse, because of its easy access to his midtown office and its proximity to well-heeled New Yorkers he victimized. But Madoff also used his homes in the pricey locales of Palm Beach and Montauk, N.Y., as social traps for the well-to-do and unsuspecting.
Madoff's scheme fell apart with his arrest in December 2008. Three months later, he pleaded guilty in federal court in New York for orchestrating the largest Ponzi scheme in history, cheating thousands of victims out of billions of dollars.
Madoff is locked up far away from his wine collection, serving a 150-year sentence in federal prison in North Carolina. According to the court-appointed trustee Irving Picard, investigators have recovered about half of the $20 billion Madoff is believed to have stolen.