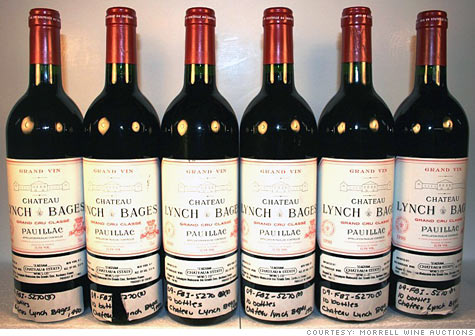 This half-case of Chateau Lynch-Bages, once owned by Bernard Madoff, sold for $6,800 at auction.
NEW YORK (CNNMoney) -- Bernard Madoff's taste in wine may not have been the most sophisticated, but buyers were more than willing to pay big bucks to own a piece of the disgraced financier's liquor cabinet.
Morrell Wine Auctions, based in New York, auctioned off 262 bottles of wine and liquor on Wednesday that had been seized by federal authorities from Madoff's mansion in Palm Beach, Fla.
The auction included a number of items that Morrell said wouldn't have passed muster if not for their unique provenance.
"Some of the bottles are better viewed as conversation pieces rather than valued for their contents, but conversation pieces they are," the auction house said in a statement.
According to early results from the online auction, the collection sold for over $41,500, which will be used to compensate victims of the Madoff fraud.
The collection, which was auctioned off in lots of individual bottles and cases, was expected to bring in between $15,000 and $21,000.
Madoff, currently serving a 150-year sentence in federal prison in North Carolina, owned mostly conventional French wines. But his cellar, such as it was, also housed a selection of scotch and other whiskeys.
The most expensive lot sold at the auction was a 12-bottle case of Chateau Mouton-Rothschild, vintage 1996, which sold for hammer price of $6,800.
But bidders were also willing to pay top dollar for bottom shelf bottles, including one lot of four minibar bottles of liquor that sold for $300.
There was also a wax-sealed crystal decanter, with no markings whatsoever, filled with a mysterious brown liquid. It sold for $950, well above the initial bidding range of $60 and $90.
The auction is part of an effort by the U.S. Marshals Service to compensate victims of the Madoff fraud by liquidating seized assets. In June, the service plans to auction the contents of the Palm Beach mansion once owned by the Madoffs.
"The United States Marshals Service will continue to dispose of each and every asset seized from Madoff", said Joseph Guccione, US Marshal for the southern district of New York.
Madoff's long-running scheme fell apart with his arrest in December 2008. Three months later, he pleaded guilty in federal court in New York for orchestrating the largest Ponzi scheme in history, cheating thousands of victims out of billions of dollars.