Madoff ruined thousands, including his son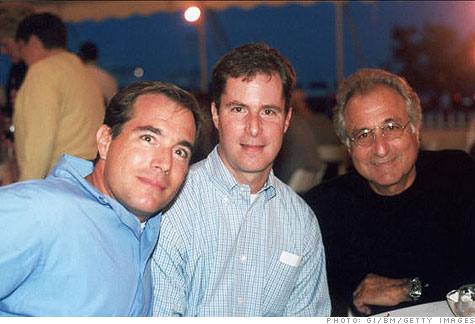 NEW YORK (CNNMoney.com) -- Two years after the arrest of Bernard Madoff, the fallout from his sweeping Ponzi scheme continues to wreak havoc on thousands of victims, whose lives were destroyed by the gargantuan scam.
Bernard's son Mark is the latest casualty. On Saturday -- the second anniversary of the Bernard Madoff's arrest -- his son Mark was found dead in an apparent suicide in his Manhattan apartment. Mark Madoff's father-in-law found him hanging from a ceiling pipe while his two-year-old son slept alone in another room, according to the NYPD.
"Mark was an innocent victim of his father's monstrous crime who succumbed to two years of unrelenting pressure from false accusations and innuendo," said Martin Flumenbaum, an attorney representing Mark and his brother Andrew.
Even some of the burned investors see Mark Madoff as his father's latest victim.
"I have nothing to say about Mark Madoff's death other than, if it was suicide, that is a sad and unexpected consequence of [his] father's fraud and deceit," said Peter Leveton of Boulder, Colo., a 'third-party' investor working with other victims to try and recoup their losses.
Madoff's immediate family is paying a heavy price for the sins of the father, even though they claim ignorance of the fraudulent machinations that funded their opulent lifestyles.
Those claims haven't protected them.
Mark and his brother Andrew, both former executives of the firm, as well as their mother Ruth and other family members have been sued for $69 million by the court-appointed trustee in the Madoff asset recovery. Mark and his brother were also the targets of a federal criminal investigation, though they haven't been charged.
Thousands of lives have been shattered in the wake of Madoff's infamous fraud. Most of his victims didn't even know who he was until the arrest.
Irving Picard, the trustee appointed by the federal Bankruptcy Court in Manhattan to recover and distribute Madoff's assets, has identified 15,751 legitimate claims from former investors in Madoff's firm, which was nothing more than a front for a long-running but unsustainable pyramid scheme.
Bernard Madoff continued his charade for decades, providing fraudulent financial statements to victims, leading them to believe that he was a market mastermind who'd increased their wealth many times over.
He provided multi-million dollar payments to some investors, claiming they were returns from successful investments. But in reality, these so-called returns were stolen from other duped investors who had joined Madoff's scheme late in the game. The new money, swindled from fresh victims, was used to keep the mature victims ignorant of what was actually going on.
The legitimate claims from victims, many of them elderly retirees, add up to nearly $5.9 billion, according to Picard.
About $768 million of the losses will be reimbursed through insurance coverage provided by the Securities Investor Protection Corp. The rest of the compensation will come from recovered assets. The trustee has recovered about $1.5 billion so far, a fraction of the $5.1 billion in losses not covered by SIPC.
But the recovery process is ongoing. In recent weeks, the trustee has filed a wave of lawsuits against about 400 investors who withdrew more than they put into the Ponzi scheme. Many of these people had no idea they were spending ill-gotten gains and are now paying the price.
"In reality he's suing innocent investors, said Ilene Kent, an activist representing many of the sued investors, including her own parents. "And victims have told me, 'Let him sue me, you can't get blood from a stone.' These are people who have lost everything and are worried about whether they're going to lose their homes."
The trustee's spokesman, Kevin McCue, said Picard "has discretion in these matters and will not pursue avoidance actions against customers with known hardships."
The trustee has also sued alleged co-conspirators. The most recent of these lawsuits was filed late Friday, when the trustee accused accountants Frank Avellino and Michael Bienes and some of their family members of covering up the Ponzi scheme. The trustee sued them for $900 million.
The largest of the lawsuits was filed earlier on Friday, when the trustee sued Austrian banker Sonja Kohn, the primary shareholder of Bank Medici, as well as six family members, Bank Austria and UniCredit, for $19.6 billion. He accused Kohn of playing a key role in recruiting investors to funnel cash into the Ponzi scheme.
The trustee has also sued real estate developer Sterling Equities, which owns the New York Mets baseball club, as well as the financial firms UBS (UBS) and JPMorgan (JPM, Fortune 500).
The majority of the Ponzi victims will never get their money back. Following the rules of SIPC, the trustee is not returning assets to "third party" investors who put their money in feeder funds, which then invested the money in Madoff's firm. Some 10,436 investors, representing more than 63% of the victims, fall into this category.
Madoff shamelessly squandered their investments to enjoy an opulent, bejeweled lifestyle with his wife Ruth. They lived in their $7 million Manhattan penthouse and sumptuous homes in Florida and France. In one of the more blatant efforts to maintain his mystique as a Wall Street wizard, Madoff named his yacht "The Bull."
Madoff's life has changed dramatically since he pleaded guilty in March 2009 to 11 counts in federal court related to running the Ponzi scheme. His properties were seized by the U.S. Marshalls. And he was sentenced to 150 years and is currently incarcerated in a medium security federal prison in Butner, N.C.
At his sentencing, Madoff told the judge that he "always knew this day would come." Now, Madoff is dealing with the death of his son. Madoff's lawyer, Ira Lee Sorkin, did not immediately return a message from CNNMoney.com, but a spokeswoman for the Federal Bureau of Prisons said it is prison policy to "immediately notify an inmate anytime there is a death in their family."