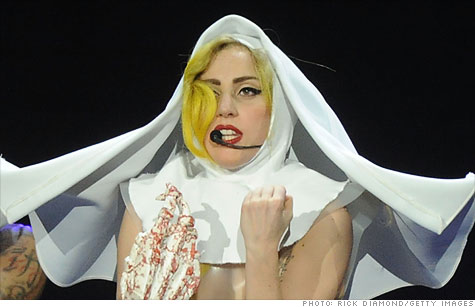 Coming soon to a Starbucks near you.
NEW YORK (CNNMoney) -- Attention little monsters!
The world's biggest coffee chain is teaming up with Lady Gaga for a little PR love to celebrate the release of the pop princess' new album.
The new album -- "Born This Way" -- drops on May 23, and that day Starbucks (SBUX, Fortune 500) will be giving away a limited number of downloads for her new song "The Edge of Glory."
For Starbucks customers of the sit-and-type variety, who cruise the Internet while they sip, Starbucks will be streaming exclusive audio and video of an a capella rendition of "Born This Way" via the Starbucks Digital Network.
And starting Thursday, die-hard fans can start a Gaga-themed digital scavenger hunt that will lead fans across the Internet in search of clues and prizes.
Robert Thompson, professor of pop culture at Syracuse University, said the collision of Gaga and Starbucks -- two of the biggest brands in the world -- is an example of "American popular culture as the entertainment industrial complex."
"You can't spit without hitting a Starbucks," Thompson said. "And the same is true for Lady Gaga."
A few decades ago, an artist lending their name and image to a major corporation would be considered "selling out," according to Thompson.
"Nobody thinks like that anymore," Thompson said. And there is some measure of risk for Starbucks, as some customers who don't count themselves as fans might be put off.
"The fact remains that not everybody likes Lady Gaga, and I think there is a potential problem here if her presence starts to infuse into the Starbucks atmosphere," Thompson said.