Shop for Japan: Lady Gaga, Levis, Charlie Sheen all donate sales to relief efforts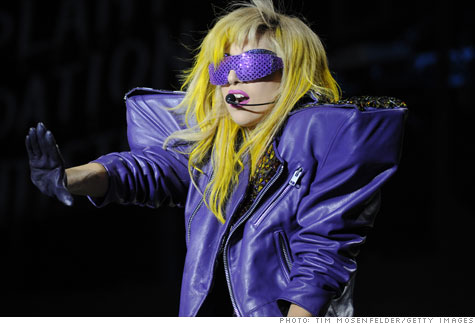 CNNMoney (NEW YORK) -- When it comes to lending support for victims of the earthquake in Japan, there are text donations, in-kind contributions -- and a little retail therapy.
Celebrities, designers and retailers are making donating to disaster relief painless: You simply have to buy their stuff.
For just $5 you can have a Lady Gaga-designed wristband with the phrase "We pray for Japan" written in English and Japanese. She is selling the bracelets online and donating 100% of the proceeds to Japan relief efforts.
In just the first two days of sales, the bracelets proved to be hugely popular. "Monsters: in just 48 hrs you've raised a quarter of a million dollars for Japan Relief," Gaga Tweeted Monday.
Other celebrities are also plugged in to the power of an endorsement. Blink-182 designed a T-shirt and launched an online auction of music memorabilia on eBay -- of which 100% of the proceeds will be donated to Red Cross relief efforts in Japan.
Linkin Park's Mike Shinoda also designed a $25 T-shirt that says "Not Alone" and committed all of the proceeds from the shirt sales to Music for Relief.
American Idol said that a portion of the profits from all Idol downloads on iTunes would be donated to Japan, while Katy Perry is giving over all the proceeds from the sale of glow sticks at her upcoming concerts.
Not to be left out of a media campaign, even Charlie Sheen is giving a dollar from each $70-dollar ticket to his "My Violent Torpedo of Truth/Defeat is Not an Option Show" to the Red Cross Japanese Earthquake Relief Fund.
"Celebrities generate media, media delivers awareness, awareness motivates people to help those in need," said Julie Whitmer, the director of celebrity and entertainment outreach for the American Red Cross.
"We've seen an incredible outpouring of generosity from the entertainment community and we are most appreciative," she added.
A few well-known names in fashion, fragrance and beauty are also spearheading their own fundraising campaigns for the Red Cross and other relief organizations.
Most notably, jewelry designer Alexis Bittar is donating 100% from all online sales made from March 21 to March 25 to the Catholic Relief Services for Japan fund. All proceeds from sales in his stores on March 24 will also be donated.
"The feeling of helplessness overwhelms me when I see images of devastation in Japan. I can only help a little bit but I like the feeling of making a small difference," Bittar explained in an email.
Fashion and lingerie house Natori and Josie by Natori will be donating 10% of all online sales through April to the Red Cross.
Makeup company Temptu and fragrance firms Creed and Hanae Mori Parfums also said they will donate a portion of the proceeds from all online sales until the end of the month to disaster relief.
Meanwhile, a number of large retailers have already gone ahead with substantial donations to the relief efforts.
Tokyo-based Uniqlo donated $4.9 million to the Japanese Red Cross and an additional $8.6 million of aid in the form of coats, jeans, towels and thermal underwear for victims. Donation boxes will also be set up in stores starting Friday.
The Gap made a $200,000 donation to Global Giving's Japan Earthquake and Tsunami Relief Fund, which will support the work of International Medical Corps and Save the Children, as well as $1.1 million in clothing.
Levi's made a $50,000 contribution to the International Red Cross and Kohl's is donating $250,000 to the Japanese Red Cross.
"We are fortunate to be a position to help and hope that this financial assistance will provide needed support in the challenging weeks and months ahead," said Julie Gardner, Kohl's executive vice president and chief marketing officer.