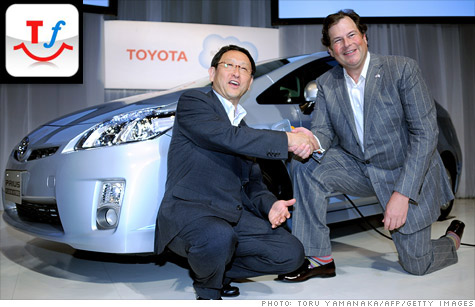 Akio Toyoda, president of Japan's Toyota Motor, and Salesforce.com CEO Marc Benioff announce a new social network for Toyota cars in Tokyo, Monday.
NEW YORK (CNNMoney) -- Toyota wants you to "friend" your car.
The Japanese automaker is launching a social network, enabling drivers to interact with their cars on Facebook, Twitter and a new private social network called Toyota Friend.
Low on battery power? Your car can tweet you with directions to the nearest service station.
Wondering about the tire pressure on your kid's car? Look no further than your Facebook feed for that info.
Cold winter day? You can not only rev up the engine, but also start your seat warmers from your iPhone.
"The car can talk to me, and I can talk to the car," said Kraig Swensrud, senior vice president of marketing at Salesforce.com (CRM), the San Francisco-based cloud computing firm that's powering the new network.
The service will roll out first in Toyota's electric vehicles and plug-in hybrids starting in 2012 in Japan. Toyota drivers will be able to access the network from mobile phones, car dashboards, computers -- essentially any device that has access to the Internet.
Toyota Friend is currently in a prototype state, as Toyota (TM) and Salesforce continue to work on ironing out all the kinks, Swensrud said.
That said -- no matter how the social components evolve, privacy settings will be a key component and can be customized by individual owners, he said.
Salesforce.com is investing $2.8 million and Toyota is investing $5.5 million in the project.
Microsoft (MSFT, Fortune 500) is kicking in another $4.1 million as part of a broader partnership to develop a global cloud platform with Toyota.