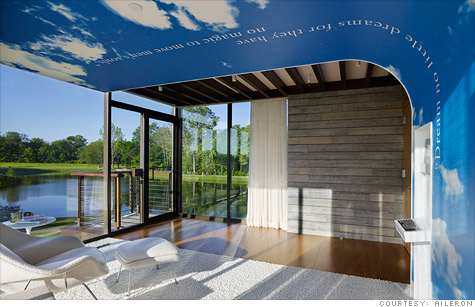 Aileron's sprawling campus in Dayton, Ohio, includes a "dream room," which is designed to help entrepreneurs focus on the big picture.
NEW YORK (CNNMoney) -- Former Iams owner Clayton Mathile made billions in big business. Now he's passing the secret of his success to small companies.
"Entrepreneurs can solve almost all the problems we have in this country, in this world,'' said Mathile. ''It's just that they have to be allowed and afforded the opportunity.''
And that is what he is trying to give them. Three years ago, Mathile, 70, put $130 million toward launching and funding Aileron, a Dayton, Ohio, institute dedicated to small business owners. Since its opening, more than 20,000 small business owners and their employees have taken the institute's business classes, used its resources and gotten counseling to improve their companies.
Mathile's approach to helping small companies makes sense, but is unconventional. At business schools, students are expected to meet the demands of the program; but at Aileron, the program is tailored to meet the needs of the student.
Uplifting small businesses
Mathile called the institute Aileron, based on the name of an airplane wing part that helps lift an airplane during flight. Its purpose is to ''help uplift our clients,'' said Mathile.
The nonprofit institute targets entrepreneurs who have $1 million to $30 million in sales and 10 to 100 employees. The mission: to teach struggling small business owners how to be better managers.
Many entrepreneurs are good at running the daily operations of their companies, but few are good at managing beyond that, said Mathile. Many small businesses ''don't have good controls in place,'' he said.
Unlike business schools that offer one-size-fits-all courses, Aileron offers a curriculum tailored for the individual small business owner.
''We give small business owners what they need, when they need it,'' said Kelly McCracken, Aileron's director of client services.
Small business owners start off with the required ''Course for Presidents,'' a $1,500, two-and-a-half day workshop dealing with leadership, strategy, business controls and more. The business owner then spends a half day with an adviser focusing on his or her business needs.
Entrepreneurs can then select from the institute's other 50 courses and take them whenever they want. This way, the owner doesn't ''have to be away from their business for a large chunk of time,'' said McCracken.
Teachers include experienced business owners and managers as well as the usual academics, said Mathile.
How it got started
The idea of Aileron started in 1994 when Mathile was still owner of pet food company Iams. Mathile joined Iams in 1970, helped turn it around and took complete ownership of it in 1982.
A big believer in small business, Mathile started the Center for Entrepreneurial Education in 1994 to help increase employment in Dayton.
In 2003, Mathile rebranded the center Aileron. In 2008, he and his wife put $30 million into the new facility and started a $100 million endowment to help with operational costs and tuition.
Today, Aileron attracts entrepreneurs from around the world.
Fostering leaders
Aileron's campus is sprawling and lush with more than 100 acres of rolling green fields. Signs of Mathile's philosophy are everywhere. There is a pool with the word ''focus'' written on the bottom and a ''dream room" to give entrepreneurs a space to think about longer term business goals.
That's what Joe Chiellini, a fireman who started a landscaping business, Ameriscape Services, in Florida, did.
He had originally started mowing lawns as a second job, and soon he had a thriving lawn care company. Ameriscape started growing so fast that Cheillini could not keep up. It now has grown to 62 employees.
Three years ago, he took the ''Course for Presidents,'' where he learned how to develop a long-term strategic plan for the business. It was a valuable experience, he said.
''I need to be the guy that is leading the company,'' said Chiellini, instead of the guy who says, ''let's go cut grass tomorrow.''