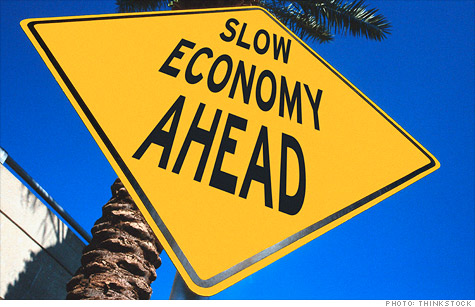 NEW YORK (CNNMoney) -- Job growth seems to be losing momentum, home prices just slumped to new lows and consumers are feeling far from rosy about the economy.
Can you blame them? Two years have passed since the recession officially ended, and the recovery appears to be slowing down -- not accelerating.
"We've had a poor economic recovery to begin with, and now it appears to be segueing into an end," said Robert Brusca, chief economist at FAO Economics.
How did this happen?
Economists blame a complicated web of factors.
First, the recovery is losing its government-provided training wheels. The Federal Reserve's $600 billion in monetary stimulus is scheduled to run out later this month, and federal stimulus dollars to state and local governments have already wound down.
Policymakers had hoped those efforts would put the economy on firmer footing, but they also didn't anticipate the blow from rising oil prices earlier this year, the earthquake in Japan and severe weather including flooding and tornadoes in the South.
And economists disagree on whether those unexpected factors will cause a temporary slump or have a lasting effect on growth.
Economists at Deutsche Bank for example, believe the recovery will regain steam after energy prices level out and global supply-chain disruptions, resulting from Japan's earthquake, dissipate in a few months.
Others, including Goldman Sachs, have slashed their estimates for economic growth multiple times, pointing to a broad-based slowdown through the year.
"Special factors do seem important, but they cannot explain all the recent weakness in the data, and the economy does seem to have slowed," Goldman Sachs economist Zach Pandl wrote in a note to clients last week.
In either case, the recovery was already moving at a snail's pace, and appears even slower now than just a few months ago.
Sure, stocks have regained their lost ground from their deep drop in the recession and company earnings have recently been solid. That's great for Wall Street, but more than two-thirds of the nation's gross domestic product depends on spending on Main Street.
And for them, the going hasn't been all that good. Consumers typically hold most of their wealth in their homes -- not the stock market -- and they're still hurting from home prices, which recently fell to their lowest levels since 2002.
Meanwhile, economists are expecting the government's jobs report due Friday, to show the economy added only 170,000 jobs in May. That's down significantly from the momentum gained earlier this spring, when the labor market grew by 200,000 jobs each month since February.
Employers are reluctant to hire, wondering if their taxes are likely to increase significantly next year, and Congress' dawdling on the debt ceiling is certainly not boosting confidence in the government's long-term finances.
"If you were a small business person, is there anything going on there that would make you want to grow your business and take on more risks? Not likely," Brusca said.
Making matters worse, inflation fears aren't out of the picture either. Businesses are starting to pass higher energy and commodity costs through to their prices, putting another dent in consumer purchasing power.
Reports this week also showed manufacturing activity slowed in China, the United States and across the eurozone in May.
Add Europe's debt problems and political turmoil in the Middle East and North Africa to the mix, and the recovery is quite vulnerable to more unexpected one-time events, said Mark Vitner, senior economist with Wells Fargo.
"Even though we may move past some of the shocks we saw, there's the potential for even more shocks in the second half of the year," he said.