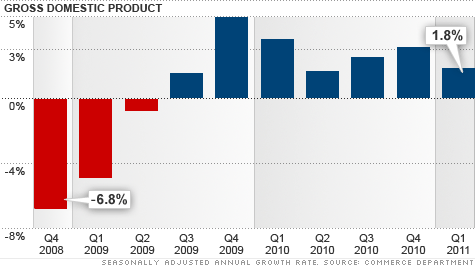 NEW YORK (CNNMoney) -- U.S. economic growth remained disappointingly weak the first three months of the year, the government reported Thursday.
Gross domestic product, the broadest measure of the nation's economic health, grew at an annual rate of 1.8% in the first quarter, according to the Commerce Department. That is unchanged from the original reading released a month ago, and well below the 3.1% pace of economic growth in the final three months of 2010.

Economists surveyed by Briefing.com had predicted that GDP would be revised up to 2% growth in Thursday's report. (World's fastest growing economies).
While the economy is still growing, most economists agree that it's not fast enough.

"Bottom line, things aren't falling off a cliff, but they're trudging along at what is likely to be a fairly weak pace," said Keith Hembre, chief economist at Nuveen Asset Management

The report showed consumer spending slowed even more than originally expected, as consumption grew at only a 2.2% rate, a significant slowdown from the original 2.7% estimate. But that was partly offset by more business spending than originally reported. (America's CEOs: Jobs outlook better, but ...)

The drop in consumption is a sign that consumers squeezed by higher energy and food prices are pulling back on their other spending, economists say. The report showed consumer prices rose 3.8% from the year before, more than twice the rate of inflation during the fourth quarter. (Do falling gas prices spell recession?)
"The surge in headline inflation from higher food and energy prices cut into real spending more than originally estimated," said economist Michael Gapen of Barclays Capital. He points out that consumer spending jumped a healthy 6% when inflation's impact is stripped out of the numbers.
The higher rate of inflation is a drag on GDP, which is adjusted for inflation. As prices rise, even more growth is needed just to compensate for those increases.
Gapen believes some of the slowdown in the report was due to temporary factors, such as bad weather cutting into spending on new construction and an unusual drop in defense spending, which shaved 0.7 percentage points off overall growth. He's expecting a rebound in the second quarter to growth of between 3% and 3.5%, with full-year growth of 2.8%.
But not everyone is optimistic, especially as some supports for the economy, like federal aid to state and local governments and the Federal Reserve's bond-buying program, come to an end.
Hembre said the weaker growth will probably cause businesses, which have been adding jobs rapidly over the last three months, to pull back on their hiring the rest of the year. He predicts growth of only 2.4% in the second quarter and 2.1% growth for the full year.
"It's not enough to cause a recession, but it's not enough to drive unemployment meaningfully lower either," he said.
The Labor Department Thursday reported an unexpected jump in initial jobless claims to 424,000, marking the seventh straight week that closely-watched reading has been above the 400,000.
Paul Dales of Capital Economics said he also expects weak growth of close to 2% the rest of this year, and a slowdown in hiring.
"It just seems to make sense, when the economy is not that active, the economy just doesn't need as many new workers," he said.
The Commerce Department calculates GDP as a measure of goods and services produced in the United States. The number is often revised multiple times. This is the second reading for the first quarter.