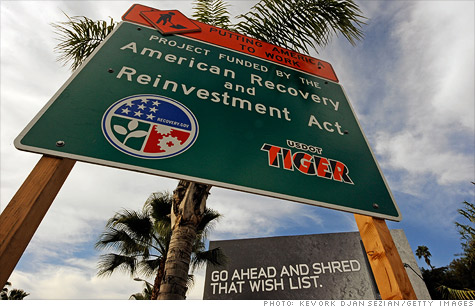 Having spent several years pumping the economy, Washington is now on the sidelines and focused on the debt.
NEW YORK (CNNMoney) -- Congress will not be riding to the rescue.
Economic indicators are pointing to slower growth. More Americans are looking for jobs, and the housing market is in a confirmed double dip.
In another time and place, lawmakers might have responded with economic stimulus measures to get the country back on track.
This time around, it's not in the cards.
Having spent the majority of the current legislative session operating at a truly glacial pace, Congress is sitting on the sidelines, waiting to see how the debate over the debt ceiling pans out.
"I am not sure you could even get the votes [for a stimulus package] if it was clear we were headed for a depression," said Norman Ornstein, a resident scholar at the conservative American Enterprise Institute.
To be fair, lawmakers have tried quite a few tactics to help the economy since 2008. Banks were bailed out, the auto industry was rescued and unemployment benefits were extended. Congress passed a gigantic stimulus package that included tax breaks and money for infrastructure projects.
But now that money has all dried up.
To complicate matters, Republicans now control the House, while Democrats hold the Senate and White House. And with the 2012 election year fast approaching, politicians are far less willing to compromise, or risk their jobs.
Eugene Steuerle, an economist and fellow at the Urban Institute, said Washington is mired in a particularly unproductive rut.
"It's as if neither party knows how to get anything done. Just the basic functioning of government has become more labored," he said.
Today, if lawmakers are likely to commit any one act of fiscal policy making, it'll be to cut spending. Republicans are now hoping to do exactly that as part of a deal to raise the debt ceiling by the Aug. 2 deadline.
"Any deal will have to include significant and immediate budget cuts, all at a time when we ought to be increasing spending," said Ornstein.
The debt talks themselves actually carry a risk to the economy, Ornstein said. If talks collapse, markets might get spooked when investors "realize what these idiots [lawmakers] could do."
Of course, the nation's debt is a major problem. Over time, Washington's budget deficits have piled up to more than $14 trillion in debt. That's so high that lawmakers find themselves with less room to act.
"We've boxed ourselves in with these long-run deficits to the point that it's weakened our ability to manage a short-term crisis," Steuerle said.
Just in the last decade, through two presidential administrations, lawmakers went on a spending spree. They spent trillions on tax cuts, wars in Iraq and Afghanistan and stimulus measures, all without paying for them.
If the economy continues to erode, there is one more stimulus option for policymakers to pursue: The Federal Reserve might be tempted to embark on another round of bond-buying in an attempt to pump cash into the economy.
The Fed's current $600 billion in monetary stimulus is scheduled to end later this month, and weakening economic conditions will almost certainly lead to calls for another round of "quantitative easing."
That might provide support to the economy if lawmakers are unable to muster the political will necessary to undertake economic tinkering -- never an easy task.
Just consider that in 2008, lawmakers failed to approve a $700 billion bank bailout that the Bush administration insisted was necessary to prevent an economic catastrophe. Most House Republicans voted against it.
"If you look at the House Republicans of today, they were raging moderates by comparison," said Ornstein. The bill was passed on a second try, but not before the Dow plunged 900 points in an afternoon.