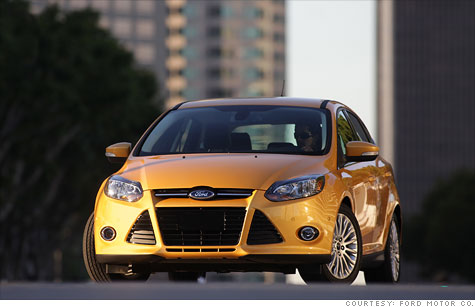 NEW YORK (CNNMoney) -- Ford Motor Co. will unveil its plan to investors to boost sales by ramping up production on small vehicles and focusing on emerging markets, CNN has confirmed.
Ford (F, Fortune 500) chief executive Alan Mulally will reveal the strategy at his corporate analysts' day in New York.
A Ford spokesman acknowledged a New York Times report that Mulally will explain his company's plan to expand global sales 50% by the middle of the decade, to about 8 million vehicles per year from the current level of 5.3 million. This would put the company at more of an equal standing with its rival Toyota (TM).
As the company refreshes its portfolio with new vehicles over the next five years, it will emphasize small vehicles, which will make up more than half of its platform by 2020.
Also by 2020, about one-third of sales are expected to come from fast-growing markets in the Asia-Pacific region and Africa, the company said.
Like the other U.S. automakers, Ford is trying to buck the struggling economy by building on the successes of its own recovery to become more competitive.
Ford, General Motors (GM, Fortune 500) and Chrysler all reported profits for the first quarter, the first time since 2004 that the Big Three posted profitable quarters.
--CNN chief business correspondent Ali Velshi contributed to this report