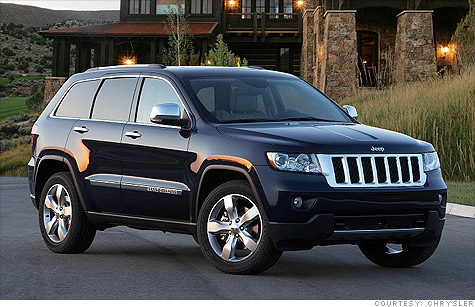 Chrysler Group's Jeep division led Chrysler's sales resurgance.
NEW YORK (CNNMoney) -- Chrysler Group sales bucked an industry slide last month as the automaker's redesigned models contributed to a 10% increase compared to last year.
Meanwhile, Toyota (TM), reported a 33.4% drop in U.S. sales compared to the same month last year while Honda (HMC) reported a 22.5% drop. Nissan (NSANY) reported a decline of 9%.
The two largest domestic automakers reported sales that were about the same as last year or a little lower. General Motors (GM, Fortune 500) reported a decline of a little over one percent compared to May of last month. Ford's (F, Fortune 500) were almost exactly even with last year.
Chrysler beat Toyota in sales for the first time since February, 2006, according to auto sales trackers at Truecar.com.
Chrysler, which had been heavily reliant on sales to corporate and rental fleets in the recent past, reported an upswing in its non-fleet retail sales of 27%. While Chrysler Group's fleet sales remain higher than they should be, said Truecar.com industry analyst Jesse Toprak, the situation has improved greatly.
"Chrysler today has the best product mix they've had in a long time," he said.
Chrysler's cars and SUVs, have almost all been changed or replaced in the past year.
Japanese automakers hit by tragedy: Following the earthquake, tsunami and nuclear disaster, Japanese automakers and their parts suppliers production have been hindered. Toyota hopes to have its factories back to normal production soon, the automaker said.
"As expected, May was an especially challenging month due mainly to uncertainties about our production forecast. But thanks to the tremendous efforts of our manufacturing team members and suppliers, we are ramping up much faster than expected," said Bob Carter, head of the Toyota brand in the U.S.
Last month, sales of Toyota's Prius hybrid car were down by almost half compared to last years, with dealers having scant supplies of the car, and sales of the subcompact Yaris were down by more than half.
See you in September: GM doesn't expect industrywide auto sales to fully recover before the end of the summer, said GM vice president for U.S. sales Don Johnson.
"June and July will be below the seasonal trend," he said "and we'll pick up later in the year."
GM and Ford also reported increases in retail sales -- sales of cars to individuals -- but those were offset by decreases in fleet sales. Domestic automakers have said they want to reduce an over-reliance on corporate sales going forward.
GM reported a decline of one percent in total sales compared to the same month last year but a nine percent increase in retail sales. Ford, meanwhile reported total sales numbers that were about the same as May, 2010, but retail sales that were up five percent. Ford's fleet sales were down eight percent, the automaker said.
Both automakers reported heavy interest in fuel efficient vehicles by consumers in the face of rising gas prices. Both GM and Ford reported sales gains for small cars and fuel-efficient crossover SUVs.
"Ford is showing major strength in the small car segment, with the Ford Focus having its best sales month since Cash for Clunkers," Edmunds.com analyst Jessica Caldwell said.
Also, customers are opting for smaller engines. More than half of Ford F-150 truck buyers purchased versions with recently introduced turbocharged V6 engines rather than the more traditional V8's. At GM dealers, about three quarters of Chevrolet Equinox and GMC Terrain small crossover buyers are getting them with four-cylinder engines instead of V6s.
Koreans surge ahead: Korean automakers Hyundai and Kia managed huge sales gains compared to last year. Hyundai sales increased 21% compared to last year while Kia sales rose almost 45%.
Hyundai and Kia are both owned by the same South Korean parent company. Combined, Hyundai and Kia outsold both Nissan and Honda and came within 1,000 units of matching Toyota's sales last month.
While Toyota will almost certainly outsell the Koreans by a wider margin in the near future, the Korean automakers will probably continue to beat Honda in sales for the rest of the year, Truecar.com's Toprak said.
Toprak credits the improved quality of the Korean automakers' products.
"The kind of growth they've had in this last decade cannot be a concidence," he said.