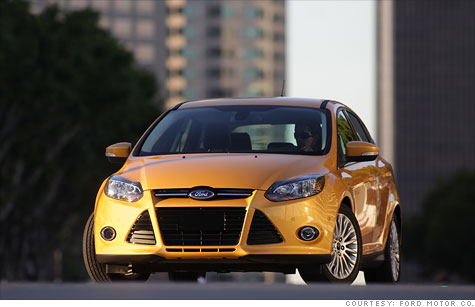 NEW YORK (CNNMoney) -- Ford Motor Co. will tell investors Tuesday that it will boost sales globally by 50% through increased production of small vehicles and the targeting of emerging markets.
Ford (F, Fortune 500) chief executive Alan Mulally will detail the strategy at his corporate analysts' day in New York.
Appearing on CNN's American Morning, Mulally said his company plans to significantly increase its offerings in growth markets such as China and India, going from five to 15 models in China and from three to eight in India.
While Ford has made market share gains in its home U.S. market in recent years, its sales still trail rivals such as General Motors (GM, Fortune 500) in China, which has become the No. 1 market for auto sales worldwide.
By 2020, about one-third of the company's sales are expected to come from fast-growing markets in the Asia-Pacific region and Africa, the company said, compared to only 15% of its shares in 2010.
Ford also expects growth elsewhere in the world, including in the United States, where industry-wide sales are still off by about 30% from pre-recession peaks.
"It really is a growth industry," he said of expected global demand for autos.
Mulally said Ford plans to increase exports from U.S. plants to help feed the growing global appetite for cars. He pointed to the revamped plant in Chicago building the Explorer SUV, which he said will export vehicles to 93 other countries.
But most of the growth elsewhere will be served by new plants in the markets in the regions where they will be purchased, which has been Ford's policy.
The growth target would take Ford's global sales to about 8 million vehicles per year from the current level of 5.3 million. This would put the company at more of an equal standing with its rival Toyota (TM).
As the company refreshes its portfolio with new vehicles over the next five years, it will emphasize small vehicles, which will make up more than half of its platform by 2020.
While U.S. gas prices have declined from a peak in recent week, Mulally said Ford expects demand for fuel-efficient vehicles will grow in the United States going forward.
"We have taken a long-term view that we will all be paying more for energy," he said.
Like the other U.S. automakers, Ford is trying to buck the struggling economy by building on the successes of its own recovery to become more competitive.
Ford, General Motors (GM, Fortune 500) and Chrysler all reported profits for the first quarter, the first time since 2004 that the Big Three posted profitable quarters. Ford reported its best first quarter profit since 1998 and analysts expect a slight improvement in second quarter earnings.
Ford's shares rose 1% in pre-market trading Tuesday following reports of its plans.
--CNN chief business correspondent Ali Velshi and CNNMoney staff writer Aaron Smith contributed to this report