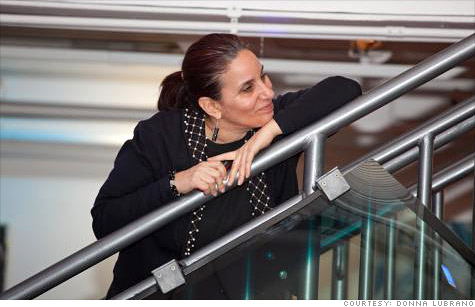 Donna Lubrano cannot afford an annual doctor's visit. Despite a history of breast cancer in her family, she hasn't had a mammogram in over five years.
NEW YORK (CNNMoney) -- In 2009, the stress caused by the recession sent Katie Pfledderer to the hospital.
Her income as an advertising executive was cut by 20% and her workload increased. To make ends meet, she had to take an additional part-time job, but the strain was more than she could bear.
"I was tired all the time and then one morning I started crying and I couldn't breathe."
Pfledderer suffered a panic attack and was taken to the emergency room. She said she had been living in fear of losing her job in the midst of the Great Recession. "It was constant concern about what's going to happen next," the 28-year-old account executive said.
As the recovery sputters, many Americans, like Pfledderer, continue to struggle in the face of sluggish job growth and falling home prices -- and that's taking a toll on their overall well being.
Thirty-five percent of middle class Americans said they or someone in their household has experienced a physical symptom of stress related to the economy, according to a recent report by First Command Financial Services, a financial service provider.
Most common were anxiety, changes in weight, sleeplessness, low energy and irritability. "These are health conditions that we want people to be aware of," said Kathryn Power, director of the Center for Mental Health Services, a division of U.S. Department of Health and Human Services.
Power said that at the start of the recession there was a sharp uptick in the number of calls to the Center's suicide hotline. "About 30% of the calls we get are related to economic distress," she said. "They were having emotional difficulties because of fear of their financial situation, fear they would lose their job, lose their home."
At the hospital, a physician prescribed Pfledderer anti-anxiety medication, "but that was short-lived because I could not afford to continue treatment", she said.
Pfledderer has since found a new job that is less taxing at a non-profit organization in Indianapolis. Still, she continues to work part-time as well and says she has a lingering fear of job stability.
"It's something that I still cope with," Pfledderer said.
"We are concerned about this from a public health approach," Power cautioned. "Even if people can't afford professional health services, they should go to community health clinics," she advised.
But just when Americans need it most, more are opting out of proactive health care as a result of the recession, according to the survey by First Command.
Twenty-six percent of those surveyed said that they have put off doctor visits due to economic conditions -- up from 15% in 2010. First Command polled approximately 1,000 Americans aged 25 to 70 with annual household incomes of at least $50,000.
Donna Lubrano, 55, hasn't had a mammogram in over five years. The recession left her with limited disposable cash for discretionary expenditures -- including doctor's visits.
Lubrano skips regular check ups and says she would only go to the doctor if she absolutely had to -- "I can't afford the co-pay," she explains.
Lubrano isn't even out of work or uninsured. She's one of the millions of underemployed Americans, and as a result her health insurance is limited. She works part time in corporate sales in Boston with a state-sponsored health plan and no dental coverage.
Without any dental insurance, a visit to the dentist is also nearly out of the question. "Just a check up would cost $400 so I haven't had a cleaning in three years, I need a root canal and can't get that," she says.
"There are short-term, mid-term and long-term implications," Power said of how the economy affects health. "If people are forgoing regular check ups or medical appointments, there will be long-term health consequences across the board."
That does not escape Lubrano, who has a history of breast cancer in her family. "I think about it every day. I worry about what would happen if I got sick," she said.

Calling all extreme savers! Do you do unusual things to save a couple bucks? We're not looking for coupon clippers and recyclers -- if you have an unusual way to save money, please e-mail blake.ellis@turner.comand you could be included in an upcoming story on CNNMoney.