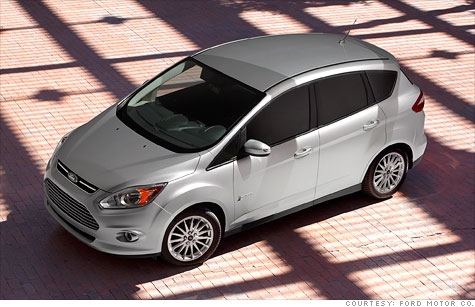 Ford's C-Max hatchback will only be available in the U.S. as a hybrid or plug-in hybrid.
NEW YORK (CNNMoney) -- Ford will soon produce a competitor to General Motors' Chevrolet Volt.
The new van-like compact car, due out next year, will be available in the U.S. in two hybrid versions. One of those, the C-Max Energi, will be a plug-in hybrid with capabilities similar to those of GM's (GM, Fortune 500) Volt but with a much longer total driving range. The other version, the C-Max Hybrid, will be a standard hybrid, similar to the Toyota (TOYOF) Prius or Ford's (F, Fortune 500) Escape Hybrid.
The cars are scheduled to go into production in Michigan next year. Gasoline and diesel-powered versions of the C-Max are already on sale in Europe but aren't planned for the U.S.
Including these vehicles, Ford said it will triple production of "electrified" vehicles in the U.S. by 2013. Electrified vehicles include purely electric plug-in cars like the upcoming Ford Focus Electric and hybrid cars like the Fusion Hybrid sedan.
The C-Max Energi will operate somewhat differently from GM's Volt.
The Volt drives about 35 miles on plug-in power before shifting to electricity generated the car's gasoline engine for a total driving range of about 379 miles, according to EPA estimates.
Instead of just pure-gas or pure-electric driving modes, the C-Max Energi will have an intermediary "blended" phase between battery-only driving and gasoline-only driving. During that time, both energy sources will be used. Even in the early plug-in phase of driving, the gasoline engine will be used to provide power during high-demand tasks such as accelerating or driving up steep hills.
The plug-in C-Max will have an estimated 500 mile total driving range, considerably longer than the Volt's, Ford's chief hybrid engineer Sherif Marakby said during a Webcast presentation.
Ford would not say how long the range would be in any of the three modes available. The automaker also did not announce pricing for the cars.
GM spokesman Rob Peterson defended the Volt system despite its lower total range. The Volt's pure electric driving range is still farther than most Americans drive on a typical day, he said, giving them the option to drive on electricity alone for weeks by charging the vehicle nightly, he said. Most Volt drivers go 1,000 miles between fill-ups, he said.
Ford will add at least 220 jobs in Michigan as it gears up to produce the cars, the automaker said, including 170 manufacturing jobs.
Battery packs for both versions of the C-Max are being designed by Ford engineers and will be built by Ford rather than being outsourced, the automaker said.
Electric drive transmissions for the cars, which are built in Japan for Ford's current hybrid models, will also be built by Ford in the U.S..
Ford currently has several non-plug-in hybrid vehicles on the market -- the Ford Fusion and Lincoln MKZ Hybrid sedans and the Ford Escape Hybrid SUV -- and a plug-in commercial van, the Ford Transit Connect Electric. A plug-in compact car, the Ford Focus Electric, is expected to go on sale later this year.