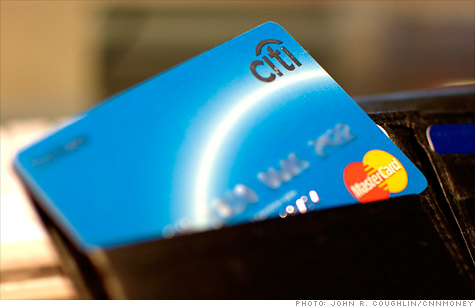 Citigroup said that a hacker accessed personal information on more than 200,000 card holders.
NEW YORK (CNNMoney) -- Citigroup says it has discovered a security breach in which a hacker accessed personal information from hundreds of thousands of accounts.
Citigroup said the breach occurred last month and affected about 200,000 customers.
"During routine monitoring, we recently discovered unauthorized access to Citi's account online," said Citigroup, in a prepared statement. "A limited number -- roughly 1% - of Citi bankcard customers' accounting information (such as name, account number and contact information including email address) was viewed."
According to its annual report, Citigroup has about 21 million credit card accounts in North America, where the breach occurred.
The statement went on to say that the customers' Social Security numbers, dates of birth, card expiration dates and card security codes "were not compromised."
Citigroup said it was contacting the affected customers and had "implemented enhanced procedures to prevent a recurrence of this type of event."
This is the latest bit of bad news for Citigroup (C, Fortune 500), as the company's stock has plunged a whopping 15% over the last month due to uncertainty about the impact of the Wall Street reform law.
Rival bank stocks have also plunged, including JPMorgan Chase (JPM, Fortune 500), Wells Fargo (WFC, Fortune 500), Bank of America (BAC, Fortune 500) and Goldman Sachs (GS, Fortune 500).

CNN business producer Katy Byron contributed to this report.