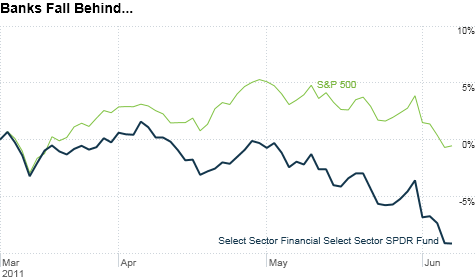 NEW YORK (CNNMoney) -- Bank stocks have gotten beaten up lately, as more signs emerge that the economy is on a slow track to recovery.
In the past month alone, shares of JPMorgan Chase (JPM, Fortune 500), Wells Fargo (WFC, Fortune 500), Bank of America (BAC, Fortune 500) and Goldman Sachs (GS, Fortune 500) have slumped between 8% to 12%.
And Citigroup (C, Fortune 500), which underwent a reverse stock-split earlier this year, is down a whopping 15% over the past month.
Analysts and portfolio managers say bank stocks will remain under pressure as long as the uncertainty swirling around the new financial regulation law continues.
"Investors are overly punishing this sector right now thinking that some of these rules are going to be the worse possible case scenario for these large banks, said Sandy Villere III, portfolio manager with St. Denis J. Villere & Co., who owns Bank of America among others.
The Dodd-Frank financial reforms were approved last year, but U.S. regulators have only finalized a handful of the rules - many of which could have serious implications on banks' profitability.
For example, last week, Federal Reserve Gov. Daniel Tarullo proposed substantially raising capital requirements for big banks. That could seriously take a toll on balance sheets.
Chris Mustachio, financial industry analyst with Stifle Nicolaus, called Tarullo's proposal "ridiculously high and unwarranted."
And the Financial Select SPDR (XLF) exchange traded fund fell 3% since Tarullo made his comments.
Many of the proposed rules may never see the light of day, but it's becoming harder to tell what's just talk. "We are in this regulatory environment where some of rhetoric could make these banks end up like utilities," Villere said.
It's not just financial reform that's hurting bank stocks. Their balance sheets aren't helping.
In the most recent quarter, Bank of America reported a 37.5% drop in net income from the year before, while Citigroup reported a 32% drop.
On top of that Moody's recently said it may downgrade the credit ratings of Wells Fargo, Citigroup and Bank of America.
If things weren't already bad, the economy has thrown another albatross around these banks' necks.
Banks are typically a barometer of broader economic conditions, analysts said, so as the latest economic data has deteriorated, so have financial stocks. Jobless claims have remained above 400,000 for eight straight weeks, and May's job report came in significantly below expectations.
"Perhaps the bank stocks have been also telling us that the economic recovery in the U.S. is not nearly as strong as the broader stock market gains were implying," said Chris Mustachio, financial industry analyst with Stifel Nicolaus.
Until the economic picture gets better and some of the more closely-watched rules of financial regulatory reform are solved, big-bank stocks will continue to lag behind the broader market, say experts.