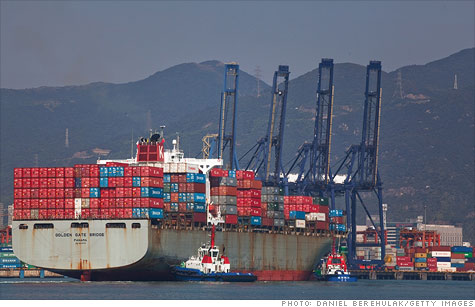 A cargo ship navigates its way into Shenzhen Port in China.
NEW YORK (CNNMoney) -- China's monthly trade balance showed a wider surplus in May, although the rate of export growth slowed.
The world's second largest economy reported a $13.05 billion surplus in May, up from its $11.4 billion surplus recorded in April, China's General Administration of Customs said Friday..
Exports grew at a 19.4% rate year-over-year, to $157.16 billion in May. While that's still a fast rate, it marks a slip from the staggering 29.9% growth in April.
Import growth sped up, expanding at a 28.4% rate to $144.11 billion.
The data came a week after China reported itsmanufacturing activity slowed to a 10-month low in May.
Economists have been expecting China's rapidly growing economy to decelerate gently in the spring.
Rapid inflation had already started quelching both business and consumer spending, they say. Meanwhile, the Chinese government has tightened monetary policy controls in hopes of taming inflation and preventing the economy from overheating.
Even in light of a slight slowdown, China's economic growth far exceeds that of the United States, with gross domestic product growth at rates consistently near 10% a year.
--CNN's Helena Hong in Beijing contributed to this report