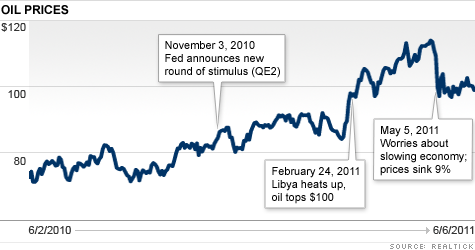 Cartel was expected to increase output, but instead said it needs another three months. Click chart for oil prices.
NEW YORK (CNNMoney) -- Oil prices breached the $100-a-barrel mark Wednesday after OPEC said it could not reach an agreement about raising crude production.
U.S. crude jumped $1.65, or 1.7%, to settle at $100.74 a barrel. Oil prices were trading down about $1 just before the OPEC announcement. The price of brent crude - the European benchmark - rose 1.1% to $118.07 a barrel.
OPEC's quarterly meeting was widely watched by analysts. The cartel had been under intense pressure to raise production as oil prices approached $120 a barrel last month.
But cartel members were unable to reach a decision to do that, with at least three members reportedly holding steadfast against any production increase. OPEC ministers said they'll take another three months before considering any increase in oil output, according to CNN.
A senior delegate from a Persian Gulf state told CNN he was stunned by the outcome.
OPEC produces about a third of the world's 88 million barrel-a-day output.
While oil prices spiked on the news, they may have risen even if OPEC decided to increase output, said Ray Carbone, an oil trader in New York.
Right now the world doesn't need any more oil, said Carbone. If OPEC had increased production, that would mean the cartel would have less spare capacity to increase output when the global economy really heats up and there is a true shortage.
"This is a well supplied market," said Carbone, noting that prices for futures contracts several months out are more expensive than current prices. "I don't know what the market would have done with that oil right now."
He blamed Wednesday's price spike on investors looking for any excuse to buy crude.
Oil prices spiked earlier this year on supply-demand worries amid signs of a strengthening global economy and ongoing violence in the Middle East.
OPEC members themselves, particularly Saudi Arabia, contested the notion that the world was short on oil supplies. Wall Street speculators were more to blame for the jump in prices, they argued.
Many analysts have agreed with that argument. But others, including the International Energy Agency and politicians in oil importing counties, are urging the cartel to increase production.
They say investors are merely reacting to the long-term trends in the market: namely, that oil consumption is rising faster than oil production, and no viable alternative is readily available.
Prices have retreated from last month's highs as global economic growth has shown signs of slowing and protests in the Middle East have largely steered clear of major oil exporters.
In other oil-related news, the U.S. Energy Information Administration reported a big drop in crude oil supplies in the United Sates but also a big drop in demand.
However, reinforcing the market's-are-well-supplied theme, EIA said U.S. crude supplies are "above the upper limit of the average range for this time of year."
-- CNN anchor and correspondent John Defterios contributed.