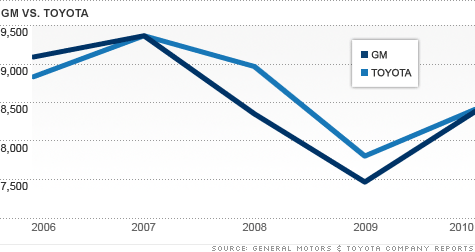 NEW YORK (CNNMoney) -- General Motors is poised to recapture the title of world's largest automaker, a distinction it lost to rival Toyota Motor when global auto sales collapsed in 2008.
GM (GM, Fortune 500) nearly caught Toyota (TM) last year, finishing only 28,000 vehicles behind its Japanese rival. In the first quarter, it moved solidly ahead of Toyota, selling 2.2 million vehicles, an increase of 11%.
Toyota sales dropped 12% to 1.8 million vehicles, putting the company in third place behind GM and Volkswagen Group, which sold nearly 2 million vehicles. Ford Motor (F, Fortune 500) was No. 4 in global sales in the quarter with 1.4 million vehicles sold.
Part of Toyota's problem was the earthquake and tsunami disaster that hit Japan three weeks before the end of the quarter, which halted much of its global production and hurt sales in its home market.
While most Toyota plants are operating again, the impact of the earthquake continues to hurt sales at Toyota and other Japanese automakers. On Friday, Toyota released its outlook for its current fiscal year, saying it expects sales to be off 3%, or about 260,000 vehicles, over the course of the 12 months that end in March 2012. It also said profits would fall $1.6 billion.
"Barring any outside, unexpected events, it's very likely GM will surpass Toyota," said Rebecca Lindland, director of strategic review for IHS Automotive, an industry research firm. "It might seem like they haven't earned it, that the runner next to them tripped and stumbled. But it is a reflection of all the work they've done that they're in contention to become No. 1 again."
GM has not released any sales targets for the company. But it is the leader in the two largest markets for auto sales, China and the United States, and it is gaining market share in both markets. Those two markets are also enjoying rising industrywide sales.
Lindland said GM will benefit more from the title than it did the last time it was No. 1. Then, the position was driven by the Detroit automaker selling many of its vehicles at a loss in order to keep plants operating, since it was burdened by labor contracts that limited its ability to close plants and cut staff it didn't need.
"If GM becomes No. 1 again, it'll do so profitably. That's what's exciting," she said.
GM last finished clearly ahead of Toyota in sales in 2006, as GM and Toyota essentially matched each other in sales the following year, the last of 77 consecutive years that GM could claim to be No. 1.
In 2008, both companies reported a drop in sales as the recession, a spike in oil prices and the meltdown in financial markets all hit demand for auto sales around the world. But GM sales fell much harder as the company slid toward the bankruptcy and government intervention that took place in 2009.
Neither company had much comment on the possibility that GM could again overtake Toyota
"Our focus is building and selling the best vehicles in the world and taking care of our customers, not a sales race," said GM spokesman Tom Henderson.
Toyota spokesman Steven Curtis said the company's priority is to be the No. 1 brand in terms of quality and customer experience, not necessarily the sales leader.