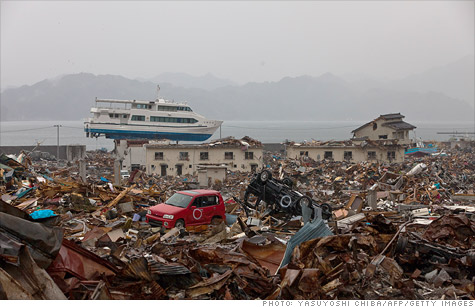 Toyota is struggling in the wake of a deadlly earthquake and tsunami that hit Japan on March 11.
NEW YORK (CNNMoney) -- Toyota Motor Corp. forecast that it could lose more than $1 billion in profits in the current fiscal year because of disruptions from the tsunami and earthquake that ravaged Japan in March.
Toyota released its forecast Friday for the fiscal 2012, projecting that net profit will drop about $1.6 billion compared to the current year.
The Japanese automaker forecasts that consolidated net income will drop 31% to $3.4 billion in the fiscal year ending next March 31. That's compared to $5 billion in net income in the current fiscal year.
Dollar figures are based on Toyota's projected exchange rate of 82 yen to the U.S. currency.
Toyota (TM) expects consolidated operating income to drop 36% to $3.65 billion in the next fiscal year, compared to $5.7 billion in FY2011. Revenue is seen declining 2% to $226 billion.
"The Japanese economy is expected to pick up gradually," said Toyota, in a press release.
But Toyota also said, "The damage by the Great East Japan Earthquake was widespread and serious, and will continue to significantly affect the Japanese economy, and the momentum of Japan's economic recovery will weaken for the time being."
This could put Toyota at a disadvantage in competing with U.S. automakers, considering that Japan's deadly earthquake has already contributed to the narrowing of the U.S. trade gap.
Ford Motor Co (F, Fortune 500)., General Motors (GM, Fortune 500) and Chrysler all reported profits for the first quarter, the first time since 2004 that the Big Three posted profitable quarters.
Ford reported its best first quarter profit since 1998 and analysts expect a slight improvement in second-quarter earnings.