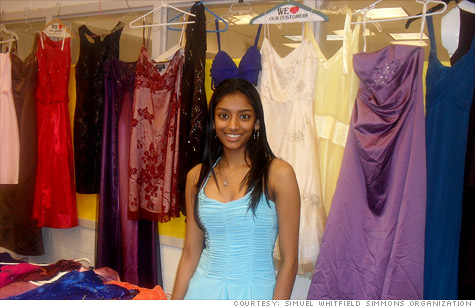 A recipient of the Simuel Whitfield Simmons' prom gown program, which provides dresses at no cost to high schoolers in need.
NEW YORK (CNNMoney) -- It's one of the most celebrated high school experiences, where love is discovered, friendships are fostered and memories are made.
At least that's how prom looks in the movies.
The reality is that those "midnight masquerades," "enchantments under the sea" and "midsummer night's dreams" have become the latest battleground between the haves and have-nots in this country.
Between tickets, attire, shoes, accessories, flowers, limousines, photographers and after-parties, the average family with a high school student attending the prom spent a whopping $807 this year, according to a recent survey by Visa.
But nearly a quarter of families spent nothing at all -- because they could not afford to let the kids go. "Some people are opting out entirely because times are tight and the social cost of admission is so high now," said Jason Alderman, director of Visa's financial education programs.
While some teenagers and their parents are willing to shell out close to $1,000 or more on their junior or senior prom, others, like 16-year-old Emily Butler, simply cannot afford it.
Although both her parents work, they have been hit hard by the real estate slump in Northern California and lost their home to foreclosure.
"Her prom was $65 per child just to go to the party, not to mention the dress, shoes, dinner, corsage or boutonniere, etc," Emily's mom, Alicia Sylvia Butler, said. "Several kids opted out of attending due to finances, our daughter included."
"If money was not an obstacle, a lot of kids would have gone to that party," she added.
As a weak job market, falling home prices and rising inflation take a significant toll on many families' discretionary incomes, the richest Americans are watching their wealth surge, leaving little need to reel in such expensive prom parties.
"Prom inflation has run amok," Alderman said. "Ever more extravagant proms create a cycle of teenagers continuously trying to outdo each other, making the evening more and more expensive."
Samantha Goldberg, an event designer in New Jersey, says that the parties she plans get increasingly more elaborate year after year. "They want tents, lounges, ice sculptures and bars. Girls want a prom dress and a post-prom dress, some want custom designed gowns. You might as well call it a wedding."
Sophia Flot-Warner's daughter, Brionn, was also excluded from her senior prom in Houston because of the cost. "We had already put aside money for the dress, but the ticket and the location were a bit of a challenge for us," Flot-Warner admitted.
"The prom tickets cost $150 a person and my daughter's date was not a student so she'd have to pay $300 for them to go and that wasn't feasible. Plus the location was over 50 miles away and the kids wanted to take a limo," she explained.
Brionn and her friends planned a small-scale party for those students who could not attend their school's pricey prom with donations from parents and student-made decorations. In the end, more students attended their party than the prom itself, her mom said.
To help alleviate the financial strain of attending the big dance, several small non-profits providing free prom dresses for those in need have popped up across the country.
The Simuel Whitfield Simmons Organization in Somerset, N.J., holds events at local high schools where students designated by the school can pick among dozens of donated dresses.
"After we did our program at Franklin High School last month, we had schools calling us from all over," said founder Natasha Rodgers. Otherwise, "we see teachers sometimes pulling money out of their own pockets to buy dresses for students."
Barbara Lowe has been doing that for years. She teaches sewing at North Vigo High School in Terre Haute, Ind., and often alters her students' dresses at no cost or even buys them their prom tickets.
"I think it's important that they get to go to their prom and not feel like they can't afford to go," Lowe said. "It's a high school memory and I want it to be positive."