Spending habits: Back to old ways?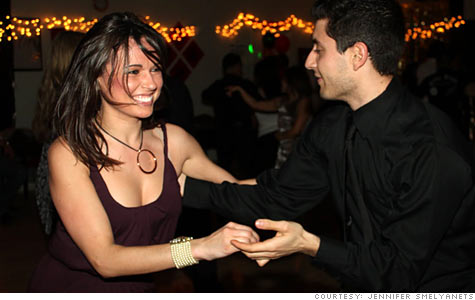 NEW YORK (CNNMoney) -- Like many consumers, Jennifer Smelyanets, claims she has changed her ways since the recession.
The 25-year-old marketing professional used to blow her biweekly paycheck, even buying a new Acura TSX, while saving nothing aside from a minimal contribution to her 401(k).
"I was optimistic, thinking, I'm only 23, I can spend now and save later," she says the San Jose, Calif.-native.
But a 10% paycut in 2009 came with a harsh reality: She was living a life she could barely afford. Now Smelyanets says she's more careful when it comes to her income.
Christine Nelson says she's firmly in the saving camp, too, after having her pay cut and her hours reduced to 30 a week last year. She and her husband, who live in central Minnesota, are now resolved to live off one salary even though her income has since been fully restored.
And Kristin Heaton-Peabody also says she's committed to a more frugal lifestyle. During the recession, "we really had to cut costs in all areas," says the co-owner of a day spa in Dallas. And even now that her business has improved, "things haven't really changed."
In fact, 52% of consumers say the recession has "forever changed" the way they spend and save, according to a recent survey by Citigroup. But that's down from 63% when the same survey was conducted a year ago.
"I look at all this talk as New Year's resolutions, nice sentiments but not likely to be implemented with any degree of consistency," said Robert Brusca, chief economist at Fact and Opinion Economics. "Once we get into a better a recovery period then we will know whether this new consumer pledge really means anything or not."
And recent reports indicate otherwise. Personal income and spending both rose in December even as personal savings declined, according to the latest data from the Commerce Department.
The amount of revolving consumer debt, mostly on credit cards, also rose in December after falling for 26 straight months, according to the Federal Reserve.
The stores are feeling the rush: After a strong holiday season, retail sales rose again in the January, marking the seventh month of gains.
"The fear of getting fired or not being able to find another job is receding, at the same time you are noticing that you have holes in your socks and your car is old and you are no where near your credit card limit and your savings has grown," said Lakshman Achuthan, managing director of the Economic Cycle Research Institute.
He predicts that "strong across-the-board consumer spending is going to continue well into 2011" and sales will improve further going forward.
Heaton-Peabody admits that has already booked two vacations this year, after two years of staycations: "One for the whole family to Maui and then my husband and I are taking a trip to Spain." She says she bought the Hawaii trip at an auction calling it "a tremendous deal."
And although Smelyanets says she is more mindful about her savings and has even set up an IRA, she also admits to a recent splurge: a $5,000 deposit on an apartment in Manhattan.
Nelson is eyeing a new couch for the living room.
Kelley Long, a Chicago-based financial coach and CPA, sees this all the time. "People are willing to cut back when they need to, but it is more like they are postponing spending than they are changing it," she says. "As soon as there's a good economic report, they are on the next cruise."