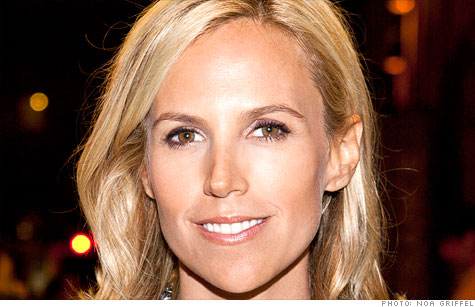 Fashion mogul Tory Burch has a foundation, which offers mentorship and microloans to small businesses.
NEW YORK (CNNMoney) -- Tory Burch launched her fashion label in 2004 from her Upper East Side apartment. Now she has a chain of boutiques in cities from Manhasset, N.Y., to Manila in the Philippines. She also has partnerships with upscale department stores like Nordstrom and Neiman Marcus, and four outlet stores.
Burch -- who is known for her elegant handbags, brightly colored tunics and cute ballet flats -- is in the midst of opening an enormous new store on Madison Avenue in New York City this September.
Despite her success, she still recognizes the difficulties that small businesses face and believes big businesses should help them.
The fashion mogul responded to questions about what she's doing to assist aspiring entrepreneurs, discussed her trek to success, and gave advice to small businesses owners looking to take their ventures to the next level.
What inspired you to found the Tory Burch Foundation?
From the beginning, I knew giving back would be a part of the fabric of our company. I wanted to help women and their families. I spent a lot of time thinking about and researching the best way to get involved. We launched our foundation two years ago to empower women through microfinance and mentorship in the United States. It's not charity; it's empowerment. It's an investment in our collective futures.
How can big businesses help small businesses?
Big businesses can help by engaging aspiring entrepreneurs and promoting initiatives which support small businesses from within. Many larger companies that have launched smaller programs have seen early success, like Goldman Sachs' 10,000 Women. These initiatives can be a great incubator for talent.
What are some of the ways you are helping small businesses?
The Tory Burch Foundation provides microloans to women entrepreneurs in various fields. We have hosted several mentoring events in New York, bringing together successful business leaders from diverse backgrounds with women starting their own small businesses. I have spoken with many businesswomen, as well, and have attended several small-business events where I've met incredible entrepreneurs.
What can small businesses learn from big business?
Small businesses should:
• Read interviews with experts in their field, listen to their advice but also have their own focused point of view.
• Look at companies that they admire to learn from their strengths and weaknesses.
• Not underestimate the power of a cold call. Requesting informational meetings is a powerful tool.
What do you think is most special about entrepreneurs?
Entrepreneurs have a great ability to create change, be flexible, build companies and cultivate the kind of work environment in which they want to work.
What are some of the steps you took to build your brand?
I spent a great deal of time building the concept of our brand. From the beginning it was a lifestyle collection with several categories, which we launched with a retail and e-commerce presence almost simultaneously. This was unique at the time, but it's one of the things that made our company stand out.
It was also critical to find the right people and build a team that I trusted. I interviewed people out of my kitchen, and many are still with our company today. One of my greatest talents is recognizing talent in others and giving them the forum to shine.
What tips can you give to small businesses that will help them be more successful?
• Have a unique idea.
• Be an information gatherer but have your own point of view.
• Follow through with absolute focus.
• Know there are no shortcuts.
• Know that tenacity is a necessity.
• Be transparent.
• Be straightforward.
• Surround yourself with people who are courageous enough to express their own opinion.
• Embrace change.