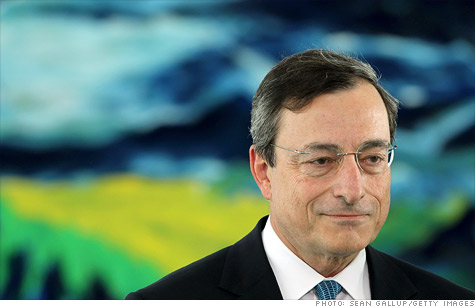 The European Council appointed Mario Draghi as president of the European Central Bank.
NEW YORK (CNNMoney) -- The European Council on Friday appointed Italian Bank Governor Mario Draghi as the next president of the European Central Bank.
Draghi will replace the current ECB president, Jean-Claude Trichet, when his term expires on Oct. 31, according to the European Council. Draghi will serve as president until Oct. 31, 2019.
The European Council announced the appointment as it also said the Troika -- the European Commission, the International Monetary Fund and the ECB -- reached an agreement with Greek authorities on a belt-tightening plan for the economy.
European and Asian markets rallied on news of the Greek accord.
The council said that Draghi has served as governor of the Bank of Italy since 2005, and has been a member of the governing and central councils of the ECB. He has also been a member of the board of directors of the International Bank for Reconstruction and Development and Asian Development Bank.
Since 2006, he has also chaired the Financial Stability Board.
Before taking the top job at the Bank of Italy, Draghi was vice chairman and managing director of Goldman Sachs International (GS, Fortune 500), according to the council. He was also director-general of the Italian Treasury and chairman of the European Economic and Financial Committee.
Born in Rome in 1947, Draghi is married with three children. He is a graduate of the University of Rome and has a Ph.D. in economics from the Massachusetts Institute of Technology. He was a professor of economics at the University of Florence from 1981 to 1991.