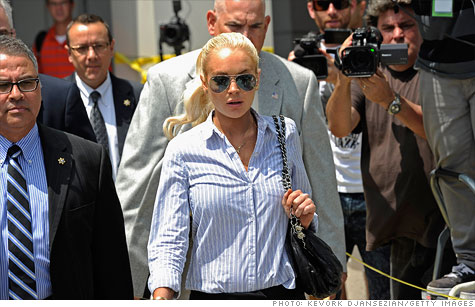 NEW YORK (CNNMoney) -- She has driven drunk, been charged with stealing jewelry, spent time in jail and is currently under house arrest. So what does Hollywood starlet Lindsay Lohan decide to do next? Endorse a controversial "penny auction" site called Beezid.
"What's a girl to do when she's at home? Jump online to Beezid.com and get shopping," Lohan recently wrote on Twitter.
Shopping isn't exactly what Beezid's web site offers, though. Instead, users can bid one penny at a time for items like flat-screen TVs or vacuum cleaners in auctions that start at $0.
But to make a bid, the participant must pay an average of 90 cents per bid (you can get a lower price if you buy bids in bulk). Bidders must also beat a countdown clock that restarts every time someone places a bid. When the timer runs out, the last person to place a bid wins the item.
"It's different than the traditional eBay model, but it's an entertaining way to shop for goods and items you want, and hopefully get great deals in the process," said Clint Cantwell, a spokesman for Beezid. "You just need to understand the bidding process when you come into it."
Beezid's twist on the penny auction may sound like a great way to get deals, but it has drawn dozens of complaints. Some consumers say they haven't received their winnings from the site; others claim the bidding process is rigged so that the people who spend the most money bidding never win. Some consumers even allege that Beezid pays people to write positive reviews on its site.
Beezid's Cantwell says the site's auctions are legitimate. He also said he can guarantee the site doesn't pay consumers to write positive reviews, and that "winners always receive what they purchased in a timely manner."
"Everything I've heard has been nothing but positive," he said. "People rarely go to those [review sites] when they have something positive to say. It's just people looking to complain, so you have to take what you read on those forums with a grain of salt."
Nevertheless, Beezid currently holds an 'F' rating with the Better Business Bureau. Curiously, however, the profile for "Beezid Inc.," which has the same phone number and company description but says it's based in Canada, has a rating of 'A -'. This is also the profile Beezid links to from its web site.
But David Polino, president of the upstate New York Better Business Bureau said U.S. citizens should look to the U.S. rating of a company when there are ratings in multiple countries, because bureaus in other countries don't have the same standards. Cantwell says the company is currently trying to remove its U.S. Better Business Bureau profile.
SiteJabber, a consumer protection site created to advise consumers of online scams, gives Beezid a 1.5 out of 4-star rating, based on 99 consumer reviews.
"I have had the flu for a week and I'm bored out of my mind and delirious ... I find this site - I sign up and spend $27," one reviewer wrote on SiteJabber. "This is the biggest scam I have ever been associated with ... you have to be real sick to think you can get something for nothing."
Earlier this year, the government's consumer watchdog, the Federal Trade Commission, cracked down on a similar online operation offering penny auctions. The outfit lured customers in with free "bonus" bids and then hit them with charges they didn't know about.
Beezid offers new customers 10 free bonus bids as well. While it does tell consumers that it costs money to place bids -- and there's even a video that walks you through the bidding process -- it doesn't say exactly how much you need to fork over for each bid until you sign up. The site says you can buy a package of bids before bidding on an item and then reload your account as you go.
The FTC hasn't taken any legal action against Beezid and it doesn't publicly release complaints received about companies. Lohan, who was placed under house arrest after being charged with stealing a necklace, initially turned down Beezid's endorsement offer of $25,000 -- in addition to a $10,000 credit to the site, said Cantwell.
But when Beezid came back with a higher offer, the two parties came to a "mutual agreement," the details of which are not being disclosed, he said. Lohan's representative at International Creative Management was not immediately available for comment.
Why did Beezid pick Lohan? "She appeals to the demographic of the site [predominantly men ages 18 to 49], and she's not busy right now, so it was a nice match," said Cantwell. And who knows, maybe shopping for deals does help her pass the time in confinement. "Looking through the auctions on beezid.com wondering what I am going to go for next," she recently tweeted.
Cantwell said she does have an account with the site, and he knows she was recently bidding on an iPad 2 for her brother's birthday. He doesn't know whether she ended up winning it, however. Her 18-second YouTube commercial for the company has already been viewed 330,000 times -- receiving 202 "dislikes" and 88 "likes".
The caption beneath the video, posted by Beezid, reads: "Lindsay Lohan takes a break from her recent home confinement to share her new found passion for the countless bargains available at Beezid.com."
After penny auctions, she may become the new face for muffins. She gave a shout-out to 1-800-Muffins, Inc. in a recent tweet: "If you forgot about a father's day gift, order 1800muffins!!"