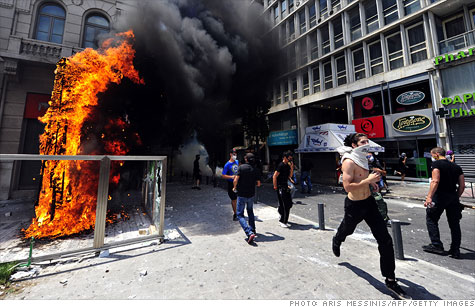 Protests in Greece turned ugly on Tuesday.
NEW YORK (CNNMoney) -- Protests turned violent Tuesday in Greece as police fired tear gas in Athens to disperse stone-throwing demonstrators who had taken to the streets to voice their objection to austerity measures.
Lawmakers are set to vote Wednesday on a tough five-year package of tax increases and spending cuts that is necessary for the debt-laden country to secure another bailout.
Police in riot gear had set up barricades outside the Greek Parliament. A 48-hour general strike kicked off in the early morning hours, hobbling most of Greece's transportation systems but freeing up workers to participate in demonstrations.
Protests turned violent and CNN reporters at the scene said they witnessed police firing tear gas canisters into the crowds as protesters threw rocks and stones at security forces.
Greece must pass the austerity measures if it is to win the last $17 billion portion of a $156 billion bailout package from other European nations that was granted in 2010.
Greece needs bailout disbursements to avert a default on debt repayments that are due as soon as mid-July. The risk of a default has world markets on edge, with investors worried the crisis will spread to other eurozone countries with debt problems.
On Monday, Deutsche Bank CEO Josef Ackermann issued a stark warning, saying the crisis could have a larger impact than the fall of Lehman Brothers, an event that kicked off the most recent global recession.
"If it is Greece alone, that's already big. But if other countries are drawn in through contagion, it could be bigger than Lehman," the Deutsche Bank chief said at a Reuters banking event.
--The CNN Wire contributed to this report.