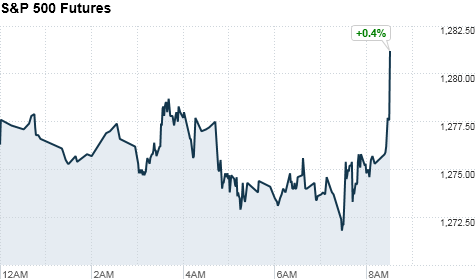 Click chart for more premarket action.
NEW YORK (CNNMoney) -- U.S. stocks were set to edge higher Tuesday, following a report that showed home prices rose for the first time in eight months in April.
Dow Jones industrial average (INDU), S&P 500 (SPX) and Nasdaq (COMP) futures were more than 0.3% higher ahead of the opening bell. Futures measure current index values against perceived future performance.
Before the housing report, futures were pointing to a lower open, as Greek Prime Minister George Papandreou continued to call for deep spending cuts and tax increases.
Lawmakers began debating an austerity package Monday that is needed to secure financial aid for the struggling country. Discussions continued Tuesday, and Greece's parliament will vote Wednesday on a five-year budget plan.
Greek workers also began a two-day general strike, which is expected to shut down much of the country's transportation systems.
"Uncertainty persists ahead of the Greek budget vote," BNP Paribas said in a research note. The austerity measures are largely expected to pass on Wednesday, but markets will likely remain "highly skittish" until then.
Longer term, while jitters about Greece's debt crisis and the health of the eurozone will still hang over the market, they could be overshadowed temporarily by optimism about the upcoming earnings season.
Stocks started off the week with solid gains, as strength in the technology sector boosted all three major indexes.
Economy: The S&P Case-Shiller home price index for April showed a surprise gain.
The index, considered one of the official gauges on the housing market, rose 0.7% in April. It was forecast to fall 3.9%, according to Briefing.com.
The Conference Board's consumer confidence survey for June will be released at 10 a.m. ET. Economists are looking for consumer confidence to remain at 60.8.
Companies:Nike's (NKE, Fortune 500) stock jumped more than 4% in premarket trading, a day after the athletic shoe maker posted better-than-expected profit and sales.
Shares of GSV Capital Corp. (GSVC) climbed 5% in premarket trading, after disclosing Monday that it acquired 225,000 Facebook shares at $29.28 per share -- working out to a valuation of approximately $70 billion. Shares of GSV had surged 42% on Monday.
Accenture's (ACN) stock rose more than 5% after the management consultancy was tapped to join the S&P 500. Accenture will reaplace Marshall & Ilsley (MI), which is in the process of being acquired by the Bank of Montreal (BMO).
Toyota Motor Corp. (TM) released May sales results Tuesday, which showed that the automaker's production is still struggling. Moody's Investors Service slashed Toyota's long-term credit ratings one notch, saying the company will remain on review for further downgrades. Shares of Toyota edged slightly lower in premarket trading.
World markets: European stocks were higher in morning trading. Britain's FTSE 100 rose 0.9% and France's CAC 40 added 0.7%, while the DAX in Germany ticked up 0.3%.
Asian markets ended the session slightly higher. The Shanghai Composite finished barely above breakeven, the Hang Seng in Hong Kong ticked up 0.1% and Japan's Nikkei added 0.7%.
Currencies and commodities: The dollar lost ground against the euro, the British pound and the Japanese yen .
Oil for August delivery edged up 60 cents to $91.21 a barrel.
Gold futures for August delivery rose $6.10 to $1,502.50 an ounce.
Bonds: The price on the benchmark 10-year U.S. Treasury rose slightly, pushing the yield down to 2.92% from 2.93% late Monday.