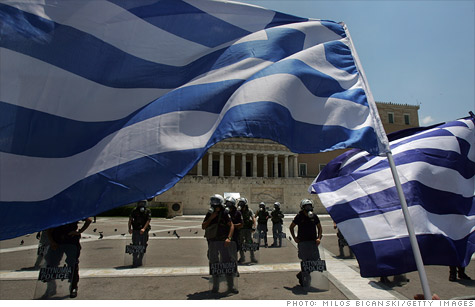 NEW YORK (CNNMoney) -- In a move that could pull Greece back from the brink of defaulting on its debt, the nation's Parliament voted Wednesday to implement another round of austerity measures.
The measure was approved with 155 votes in favor, out of a 300-person parliament. The plan would reduce the pay of Greek public workers, increase the attrition of public jobs and ramp up tax compliance, in exchange for the last tranche of a bailout from Greece's European neighbors.
Greek Parliament will vote on a second bill Thursday, to authorize the specific austerity cuts in greater detail.
On Wednesday, riot police fired tear gas as thousands of protesters descended on the city center, indicating that a second day of mayhem could be in the works outside the Parliament building in central Athens.
Approval was required for Greece to win the last $17 billion of a $156 billion debt crisis relief package that was granted last year by its European neighbors. The new austerity measures are worth an estimated $112 billion to the Greek economy, according to Deutsche Bank analyst Jim Reid.
The approval was also required to pave the way for yet another bailout, which may become necessary to keep Greece from defaulting on its debt payments.
Protesters are angry at the prospect of taking on more austerity measures, in addition to the ones they adopted last year. Last year's measures include pension cuts; a sales tax boost; excise taxes on fuel, cigarettes, alcohol and luxury goods; tougher eligibility for disability benefits; and a hike in the retirement age to 65 from as low as 61.
But these measures have further dragged down the economy, analysts say. Marko Mrsnik, the lead analyst in the recent Standard & Poor's downgrade of Greece, said the austerity measures have helped to drive up the jobless rate to 16.2% from 11.6% in March 2010.
Many of the protesters are young people have been particularly hard-hit by high unemployment. Many of them blame rich tax-dodgers for their nation's fiscal woes.
--A CNN Wire report was used in compiling this article.