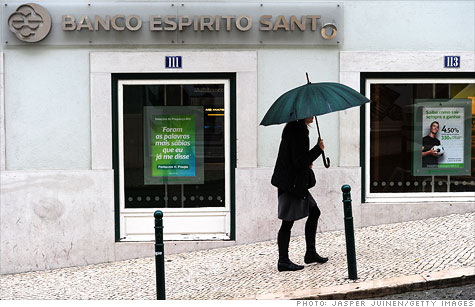 Moody's downgraded Portugal over concerns about the country's need for financing.
NEW YORK (CNNMoney) -- Moody's Investors Service on Tuesday downgraded the government debt of Portugal, saying it's another European nation that could require a bailout.
Moody's (MCO) downgraded Portugal's long-term bond ratings to Ba2 from Ba1 and gave them a negative outlook. The rating agency also downgraded the country's short-term debt rating to Non-Prime from Prime-2.
Moody's said the motive behind the downgrade is the growing risk that Portugal will require another round of financing from its European neighbors, with funding from the private sector a pre-condition.
The rating agency also said it was concerned that Portugal won't fully meet the deficit reduction and debt stabilization targets set out in its loan agreement with the European Union and International Monetary Fund.
Moody's said Portugal faces "formidable challenges" as its cuts spending, sustains economic growth, supports its banking system and makes sure its taxes are collected.
The Portuguese parliament is considering a four-year austerity plan for a European bailout program worth $112 billion.
Portugal is one of five European nations that have been economically battered in recent years. The others are Ireland, Italy, Greece and Spain; together the nations have been tagged the "PIIGS."
Greece has been the most troubled of the five nations. Last week's approval of the final tranche of a $156 billion European bailout was preceded violent protests on the streets of Athens. Acceptance of the bailout forces the Greeks to go along with painful austerity measures, such as pay cuts for public workers and tax hikes.
Last year, Ireland also accepted a bailout program of $122 billion, along with its own austerity program, involving spending cuts, loss of some public sector jobs, a lower minimum wage and higher taxes.