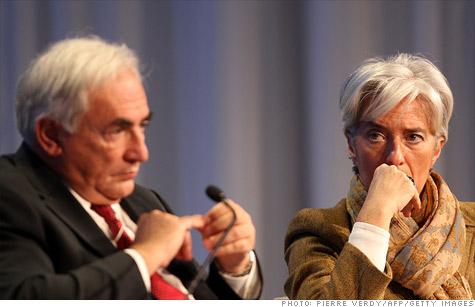 Christine Lagarde, shown right in this 2010 photo, replaced Dominique Strauss-Kahn as managing director of the International Monetary Fund.
NEW YORK (CNNMoney) -- Christine Lagarde, recently chosen as the new managing director of the International Monetary Fund, said that employment will be her key focus, even more than the fiscal deficits that have swamped the world economy.
"We cannot be only driven by the hope to reduce fiscal deficits," she said Wednesday in Washington, where the IMF is based. "The issue of employment is a critical one."
Lagarde, a former French finance minister who attended school in the United States during the early 1970s, was named to a five-year term as the new managing director of the IMF on June 28. She is the first woman to lead the organization.
The appearance was her first since assuming her new role on Tuesday.
Her predecessor, Dominique Strauss-Kahn, stepped down while incarcerated in a New York City jail, after his arrest on charges of sexual violence.
Lagarde praised the work of her predecessor, without discussing the details of his case. A former lawyer, she urged the media to respect the presumption of innocence.
From her new position, Lagarde said the IMF is "facing a landscape that is in a better shape than it was two years ago," but that the world faces an "uneven recovery." In contrast to the past, she said that emerging markets with strong growth are leading the recovery, while developed markets are experiencing slower growth.
She said the IMF has scheduled a meeting for Friday regarding Greece, which recently won Eurozone approval for the fifth and final tranche of its $156 bailout. She would not reveal details of the upcoming meeting, except to say that the "ultimate purpose that we all pursue" is "to restore the competitiveness" of Greece.
She vowed not be biased toward her native France and dismissed any notions that she might not be qualified for the job.
"The truth of the pudding is in the eating, as you say, and we'll see how we manage," she said.
Lagarde will be paid about $550,000 per year in total compensation.
Strauss-Kahn quit the IMF in May after he was accused of sex crimes against a hotel chambermaid in New York City. His legal situation improved last Friday, when prosecutors announced that the alleged victim had not been truthful about certain aspects of the case, though they haven't dropped the charges.
Strauss-Kahn has also been accused of attemped rape several years ago in his native France. A lawyer for Strauss-Kahn said he has filed a counter-claim against the writer who made the claim earlier this week.