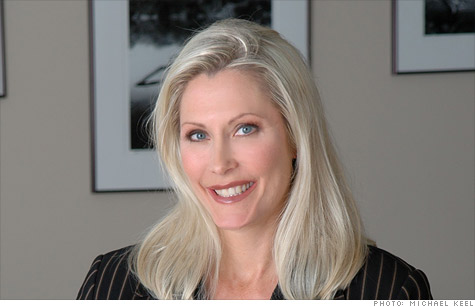 Matchmaker Christie Nightingale just made her first million.
NEW YORK (CNNMoney) -- It's been said there's a one-in-a-million chance of finding true love.
Christie Nightingale, founder of Premier Match, an upscale matchmaking service for lonely hearts in New York City, Philadelphia and Washington, D.C., aims to lessen those odds.
And in the process, she has turned the one-in-a-million chance into a million-dollar opportunity.
Late last year, she crossed over the million-dollar-revenue mark. "I knew I was going to reach it and it was really exciting to finally hit it," said Nightingale. "It's been a goal of mine for a long time. It's exhilarating! It's one of those 'wow' moments."
Nightingale said she has always had a knack for setting people up. When she was a model, she organized parties at Manhattan bars for fun, inviting male classmates who worked on Wall Street to mingle with her model girlfriends.
In 2000, she actively pursued matchmaking, inspired by a relative of her husband's who worked in the business in Los Angeles. Nightingale flew to L.A. and spent three months learning about the profession. At the same time, she noticed that the East Coast didn't have much of a matchmaking industry.
"I realized there was a niche that wasn't being satisfied and thought, 'I'm onto something,' " she said.
Putting up $10,000 of her own money, Nightingale got every single person she knew to sign up for her service and placed ads in New York Magazine. Premier Match debuted in 2001.
"It's hard enough to break into a new territory, especially when you have to stock the shelves -- with people,'' she said. ''I was surprised how quickly the phone started to ring. Within three months I was turning a nice little profit."
It wasn't all smooth sailing. Months after starting Premier Match, which now employs six people in three offices, Nightingale hit her first roadblock. Her client base practically dried up after the September 11 terrorist attacks.
But in early 2002 her business bounced back. "Everybody was reevaluating their lives and asking what was more important -- being a director of a bank or having somebody to share their life with?" said Nightingale, who considers herself part therapist and part salesperson.
A one-year membership to Premier Match, which begins with a two-hour interview, is between $10,000 and $50,000. Next, Nightingale phones clients she thinks would make possible matches. Out of the 10,000 people in her database, she actively works with about 300 at a time.
"I work with some very high-profile clients in Washington, D.C., who are policymakers and others who are household names," said Nightingale. "We often decline those that are unrealistic about their criteria," as well as people still not over their last loves. About 75 percent of her clients have post-graduate degrees; all are professionals. The age range of clients is between the late 20s and mid-50s.
Clients' identities -- not even photos -- are ever revealed until each person agrees to meet. Nightingale said her services are different from online-dating sites in that clients are required to provide feedback about dates. Those who display poor manners during a date, such as checking a Blackberry excessively or showing up late, are told politely about their behavior.
Nightingale credits some of her success to "Make Mine a Million $ Business," a program sponsored by not-for-profit Count Me In for Women's Economic Independence. The organization helps women's businesses cross the one-million-dollar mark in annual revenue.
The program helped Nightingale expand her company.
"To grow her business she needed multiple locations," said Nell Merlino, CEO of Count Me In. "Her challenge in the beginning was looking at other cities. People are always looking for romance. That never goes out of fashion.''
And Nightingale believes that her matchmaking skills will help her move her company forward. "I have a memory like an elephant and remember the most minute details," she said.