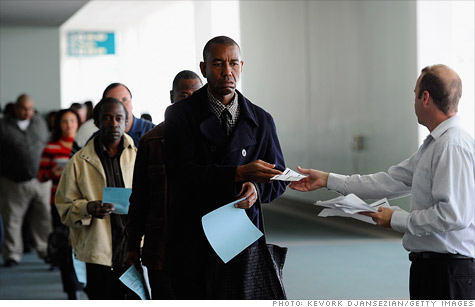 Small business owners are still not hiring.
NEW YORK (CNNMoney) -- When it comes to hiring, the engines of job growth -- small businesses -- are sitting idle.
Almost two-thirds of small business owners said they will keep the same number of employees for the next year, according to the Small Business Outlook Survey released by the U.S. Chamber of Commerce Monday.
Fifty-five percent said economic uncertainty is one of the biggest reasons they aren't adding employees. That was followed by 34% who said "a lack of sales" was making them hesitate about hiring.
More than eight out of 10 small business owners said the U.S. economy is "on the wrong track," the survey said.
Small business hiring is important, because small firms provide just over half of private sector jobs, according to the Small Business Administration's Office of Advocacy. And over the past 15 years, small businesses have created 64% of net new jobs.
The country's growing debt and deficit, healthcare reform law, over regulation, and high taxes also topped the worry lists of small business owners, according to the survey.
Small business owners also overwhelmingly wanted Washington to just "get out of the way."
"The most important role the government can play is to remove the impediments and reduce the uncertainties that have slowed our growth and shackled our job creators," said Thomas J. Donohue, the President and CEO of the Chamber of Commerce, in a statement.
The stalled hiring in the sector comes as the government reported a rise in the unemployment rate to 9.2% in June from 9.1% in May.
The Chamber of Commerce's quarterly Small Business Outlook Survey -- compiled by Harris Interactive -- polled 1,409 small business owners and executives between June 27 and June 30. Small businesses were defined as those with $25 million or less in revenue.