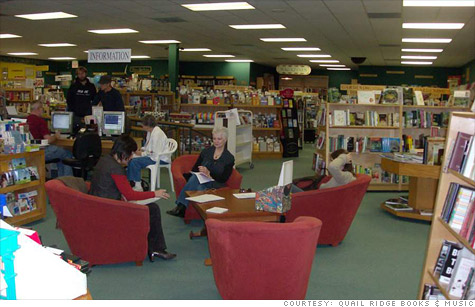 Independently-owned Quail Ridge Books & Music has to take take cards to avoid losing sales. But banks charge by the swipe and it adds up.
NEW YORK (CNNMoney) -- Small businesses were looking for a big break Wednesday from Ben Bernanke and the Federal Reserve.
They got a break. But just not as big as they were hoping for.
Retailers have been complaining for years that big banks have been gouging them with high fees to process debit card transactions. Last year, Congress enacted a law to put a cap on these "swipe" or "interchange" fees.
Wednesday, the Federal Reserve issued a final set of rules on the law setting the cap at 21 cents per transaction.
That is better than the 44 cents on average that retailers pay banks now for each transaction. But, it is also nearly double the 12 cents that small businesses were expecting.
"This undercuts potential savings that merchants and their customers were going to be receiving," said Mallory Duncan, senior vice president at the National Retail Federation. "The Fed revealed itself to be bankers rather than business people."
Main Street thought the debit fee smack down was going its way when earlier this month, the Senate rejected legislation that would have pushed back by a year the July 21 effective date of the cap.
Instead, the Fed gave banks until Oct. 1 to implement the new rules.
Swipe fees are big business for Wall Street -- $16 billion a year big.
Retailers of all sizes pay swipe fees. But Main Street gets squeezed a lot by them.
"It is all in proportion to your sales size," said National Federation of Independent Business chief economist William Dunkelberg. On a big-ticket item, a swipe fee is relatively negligible. But for lots of smaller purchases, the fees add up.
Take, for example, Quail Ridge Books & Music in Raleigh, N.C.
When a customer pays for a daily newspaper with a Visa debit card, the independently-owned bookstore's profit is "almost nothing," said General Manager Sarah Goddin.
"We pay tons of money on those fees," said Goddin. "It is a big deal for us."
With an average sale of about $30, Quail Ridge Books can't afford to not accept cards. "We would sell a lot fewer things," she said.
Some small businesses, however, have chosen to deal with the card fees by not accepting cards of any sort.
Late last year, the Red Horse Cafe, a coffee shop in Brooklyn, N.Y., stopped taking cards of any sort. "Our volume wasn't high enough and fees were basically taking a big chunk of it," said Carolina Whitson, co-owner. Their average transaction per customer is less than $5.
The Red Horse Cafe put an ATM in the shop and as a result started processing fewer card transactions. So they decided to then take the next step and went cash-only.
"Customers want to use their credit card or debit card, but 99% of the time, they do have cash in their wallet," said Whitson. At least enough for a cup of java.
Whitson said that even with the new cap on fees, she would have to do careful calculations before deciding to take cards again. For her cafe, it is "not just the fee per transaction. We were also having other fees apply to us because we weren't getting to a certain level of transaction."
At shops where cards are accepted, the cap on swipe fees is also potentially good news for the consumer, should businesses choose to pass on the savings, said Dunkelberg.
However, while consumers might save at the store, they may end up paying more in fees at the bank. Banks "will make it up someplace else," said Dunkelberg, even if it takes them a while to figure out exactly where.