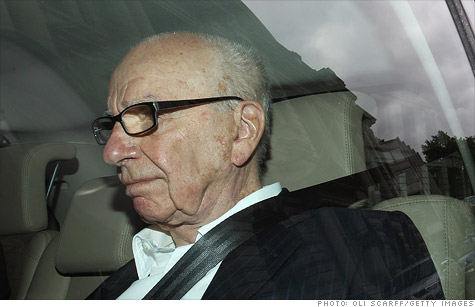 Rupert Murdoch's News Corp. said Wednesday it was dropping its bid for satellite TV company BSkyB.
NEW YORK (CNNMoney) -- News Corp. -- Rupert Murdoch's media conglomerate -- ended its $12.5 billion bid to purchase all of British Sky Broadcasting, following days of intense pressure from the British public and politicians over the company's growing phone hacking scandal.
News Corp. (NWSA, Fortune 500) said in a prepared statement that while "the proposed acquisition of BSkyB by News Corporation would benefit both companies ... it has become clear that it is too difficult to progress in this climate."
The company said it plans to remain a long-term shareholder in BSkyB. News Corp. currently owns a 39.1% stake in the company, Britain's largest pay-TV provider with more than 10 million customers.
Shares of News Corp. rose slightly less than 4% on the news it was ending its bid, but shares have fallen more than 10% in the past five days before the news was announced.
"It's a major disappointment but events were unfolding so quickly that it became almost clear in the last 24 hours that the deal wasn't going to do through," said Tuna Amobi, analyst with Standard & Poor's.
News Corp. has been at the center of a media and political firestorm for more than a week following reports that the company's News of The World tabloid allegedly hacked into the voicemails of British citizens -- including a 13-year-old murder victim and the families of dead British soldiers and -- to obtain exclusive stories.
Since last week's developments, there has been no shortage of damning headlines tied to News Corp. The company shut down News of The World on Sunday, ending the newspaper's 168-year run, and its former editor Andy Coulson was arrested for his alleged ties to the phone hacking practices.
Politicians on both sides of the British ideological spectrum have been calling for Murdoch to drop the bid, but the pressure reached its apex earlier Wednesday when British Prime Minister David Cameron announced he was opposed to News Corp's purchase of BSkyB.
"What has happened at the company is disgraceful, it's got to be addressed at every level and they should stop thinking about mergers when they've got to sort out the mess they've created," Cameron told British Parliament earlier on Wednesday.
Cameron later welcomed the news that Murdoch was stepping away from the merger, calling it a "decent and sensible thing to do."
The end of the deal is a major setback for Murdoch.
BSkyB has been a solidly growing company for years now, with annual earnings up 30% in the fiscal year ended March 31. That, in turn, has boosted News Corp.'s bottom line -- Murdoch's company netted $111 million, or 10% of the company's earnings, in the first quarter of 2011.
That's why News Corp. aggressively pursued BSkyB for more than a year. As well as raising its original bid by about 14%, Murdoch had made major concessions to the British government to get the deal approved, including spinning off Sky News into a publicly traded company.
Without News of the World or BSkyB, News Corp. still keeps a formidable presence in the inside Britain, including The Sun, The Times and The Sunday Times. The company also hasn't ruled out going after BSkyB in the future when the political climate is less toxic.