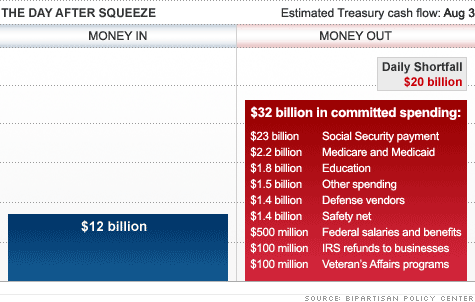 One estimate of the hard choices Treasury could face if Congress fails to raise the debt ceiling.
NEW YORK (CNNMoney) -- If Congress doesn't raise the debt ceiling, I might have to send my mom $1,124 next month to make up for the Social Security check that never arrives.
Good going, Washington.
What an absurd place we've come to in this debate. The fate of the country's AAA credit rating is being discussed on the front page. Wednesday's meeting at the White House ended in what sounds like a food fight -- or a spat in a bad marriage. And the players and their proxies are gaming out which tactic might best enhance their re-election prospects.
Is this really happening? In the world's largest economy with a sterling reputation for paying what it owes without fail?
Congress must raise the debt ceiling. Now. Today. Not next Thursday. Not on Aug. 1 at a stroke before midnight.
It's simple math: The Treasury Department brings in a certain amount of money every month and has to pay its bills. Right now, the average gap between money in and money out is $125 billion, with the government borrowing to make up that difference.
Let me repeat that: $125 billion a month.
Translation: $125 billion the government won't have to pay bills coming due. Even in an annual budget that exceeds $3.5 trillion, that's a lot of money.
That's not spin. That's arithmetic.
Will Treasury have enough money to pay some of its bills? Of course. Will it be able to pay its bondholders? Yes, at least for awhile, although it will be a mess figuring out how. Will it invariably run out of money before it gets to the bottom of the pile of all its bills? Obviously.
Of course, it would be a political and cultural firebomb to withhold Social Security payments. So my scenario is probably overblown. But someone won't get paid.
If not my mother, what about the soldiers in Afghanistan? Or federal workers? Or the taxpayer waiting for his refund?
Don't get me wrong: I'll happily help out my mother if she needs it.
And don't misunderstand: Washington must address the country's long-term debt.
But not like this.
Not by reneging on the country's obligations -- legal and moral -- to pay all of its bills on time.
Raise the debt ceiling so my mom won't need a bailout. Or anyone else.
--The opinions expressed in this commentary are solely those of Rich Barbieri, who is deputy managing editor of CNNMoney.