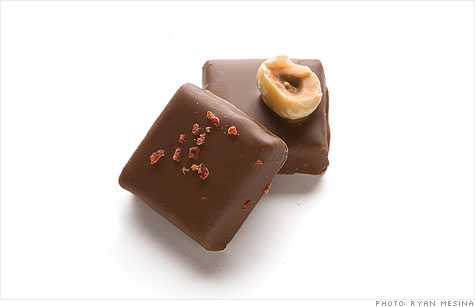 L.A. Burdick Chocolate
(Money Magazine) -- Say sayonara to the days of loading up your grocery cart (or your restaurant tab) with cheap eats. Prices of meat, poultry, fish, and eggs have risen nearly 10% over the past year.
"The spike is all about the weather," says Phil Lempert, publisher of the SupertMarketGuru e-newsletter. Flooding and tornadoes in the feed-corn-growing Midwest, for instance, and heavy rains in coffee producer Colombia are taking a toll on food prices.
You can cut your costs, though, with high-tech help and smart substitutions.
Divide and conquer. For meat and seafood, Costco's prices are unbeatable -- you'll save about 15% to 30% vs. a grocery store, says Lempert. But Costco doesn't always have the lowest prices on everything.
For fresh fruits and vegetables, head to a farmers' market (find one at localharvest.org) at the end of the day, when vendors often discount by up to 50%, says Christine Frietchen, editor-in-chief of ConsumerSearch.com.
For nonperishable items, such as cereal and canned goods, go to dollar stores (Dollar General, Dollar Tree) don't laugh, they have surprisingly good selections. Or go to bargain food outlets, such as Aldi, Save-A-Lot, or Grocery Outlet, where you'll find a limited selection and have to bag your own purchases but can save 50% to 70% off regular grocery store prices.
Nab coupons effortlessly. When you're short on time, you may have to make a quick run to a regular grocery. Find one near you with a loyalty card; major chains, like Kroger, ShopRite, and Safeway, will zap digital coupons directly to it.
Get your Groupon. Chain grocery stores are starting to get in on social media. For example, Northeastern chain Big Y partnered with Groupon to offer a shellfish multi-pack of lobster tails, mussels, and clams for $24 -- a 40% discount -- for 24 hours to loyalty club members.
E-mail The Help Desk your household budget questions.
Visit flash sales. These aren't just for designer clothes anymore. New websites such as igourmet.com and Gilt Taste are offering regular short-term sales on high-end food.
Recent Gilt Taste daily specials included 20% off a pound of fresh morels and a selection of prosciutto and coppa cured hams for $69.99, down from $90.
TYPICAL GROCERY-STORE MARKUP ON MEATS AND PRODUCE: 50% to 75%
What you don't know. The shorter the shelf life of a given food, the higher the markup, says Tim Richards, a professor of agribusiness at Arizona State University: 60% on meat vs. 26% on canned goods, for example.
EXPERT PICKS
Gourmet foods best buys.
Lee Schrager, founder of the South Beach Wine & Food Festival, suggests these tasty treats.
$28: L.A. Burdick Chocolate 35 pieces.The flavors of these exquisitely wrapped chocolates are more intense than other top-selling brands, and they cost less. "The beautiful packaging makes them a great gift," says Schrager.
$6.49: Maldon Sea Salt 8½-ounce box. Epicurians sprinkle sea salt on everything from grilled vegetables to eggs. These high-quality flakes harvested off the coast of England have no additives and are far cheaper than other gourmet salts