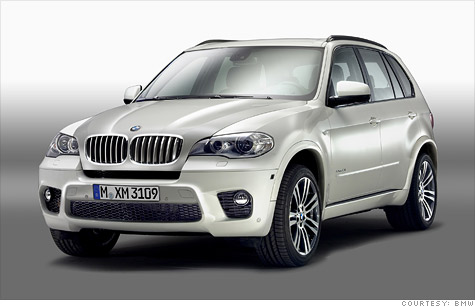 One of our expert's top picks: The BMW X5 35D
NEW YORK (Money Magazine) -- The supply of new wheels is tighter, as the Japanese auto industry recovers from the effects of the recent earthquakes, and as domestic automakers have wised up and stopped overproducing.
Result: Rebates and other incentives -- once rampant -- are down almost 20% and steep discounts off sticker price are less likely too.
But you can still score a deal. Here are five strategies for landing your own, plus four picks for the best car deals now.
Figure out what your current ride is worth. First, plug the stats about your vehicle (be honest about its condition) into the calculator at Kelley Blue Book's website (kbb.com).
It'll spit out the "private party" value, or what you could expect to get if you sold the car yourself. That way, at trade-in time, you'll know if the dealer's offer is close enough to be worth it.
Research features and prices online. Before you walk into a dealership, you should already have a darn good idea which models you're interested in and why. Compare sticker prices (and real-world prices), features, specs, and fuel economy on virtually every model out there on kbb.com, edmunds.com, or AOL Autos.
Once you've narrowed the field to three cars, hit a local dealership and take them for a spin -- then pick a winner.
Negotiate remotely. Haggling in person is a losing proposition; the more experienced negotiator will inevitably come out on top. To take back the upper hand, hop on to one of two new sites: carwoo.com or zag.com.
Both allow you to find price quotes without revealing any contact info before negotiations. The dealers know you'll see their prices displayed alongside others, so they have an incentive to go straight to their lowest offer. And they're required, by agreement with the sites, to abide by it.
Zag.com is free to consumers, but dealers must pay a commission to the site if a sale is made, which means fewer participate (5,000 nationwide). Plus, you're not guaranteed a price on a car with every feature you want.
Carwoo.com, on the other hand, will cost you a one-time $49. For that you get a better version of a real dealership experience, where you haggle for a price on the exact vehicle you want that's sitting there on the lot.
Beware the after-sell. After the deal's done, you'll head to the brick-and-mortar store to grab your wheels. That's the dealer's cue to push fabric protectors, aftermarket security systems, and extended warranties.
Don't bite. "With almost all of the stuff, it rarely makes sense to buy," says Phil Reed, consumer advice editor at Edmunds.com.
Be willing to wait until the fall. The best negotiator is one who's willing to walk away. Your hand may grow stronger in a few months when Japanese production picks up and a new model year forces dealers to clear inventory.
EXPERT PICKS
From Peter Valdes-Dapena, CNNMoney
SUV: BMW X5 35D (19 mpg city; 26 hwy.) "Possibly the best-driving three-row SUV, the X5 35D -- powered by a modern diesel engine -- is expected to sell at discounts of about 14% off its list price this summer, according to Truecar.com. Diesel hasn't been popular in the U.S., hence the big discounts."
Crossover: Hyundai Veracruz (17 mpg city; 23 hwy.) "The luxury-like Veracruz crossover is already a smart buy even without deep discounts. While most Hyundai models sell at close to full sticker price, the large-ish Veracruz just happens to be in an unpopular market segment at the moment. This summer, dealers are expected to be discounting the price more than 10%."
Sedan: Infiniti M56 (16 mpg city; 24 hwy.) "An often-overlooked gem of a car, the M56 is roomy, stylish, and a pleasure to drive. This summer it's expected to be selling at discounts of about 11% off sticker due to tough competition in the luxury-car market. That's a better buy than others in its category."
Sports car: Ford Mustang convertible (19 mpg city; 29 hwy.) "The Mustang convertible is a drop-top bargain, relatively practical, and a blast to drive. It's also amazingly fuel efficient, considering its performance. Ford produced too many Mustang ragtops ahead of summer, according to Truecar.com. That, plus competition from the Chevy Camaro, has led to discounts of 11%."