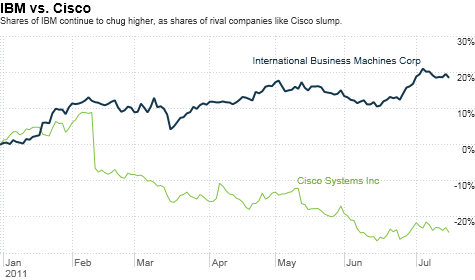 Click chart for more markets data.
NEW YORK (CNNMoney) -- Even the European debt crisis can't slow down Big Blue.
IBM, which consistently beats Wall Street expectations, logged another strong quarter of growth in all of its major markets.
IBM said Monday that second quarter revenue in Europe, Middle East and Africa jumped 16% from last year. Operations in debt-stricken countries like Spain even posted solid sales, and business in Italy -- which many investors worry is on the brink of default -- actually returned to revenue growth in the quarter.
Asia-Pacific sales rose 14%, while revenue in the Americas increased 10%.
Overall, the technology services company said profits for the quarter rose 8% from last year to $3.7 billion. Excluding one-time charges, earnings per share were $3.09. Revenue increased 12% from a year ago to $26.67 billion. After adjusting for foreign exchange rates though, sales were up 5%.
Analysts surveyed by Thomson Reuters expected the technology services company to earn $3.03 a share on revenue of $25.35 billion.
IBM (IBM, Fortune 500), which celebrated its 100-year anniversary this year, raised its full year earnings guidance to at least $13.25 a share. The company had previously issued guidance of at least $13 per share. Analysts had been expecting a profit of $13.22 a share for 2011.
At the end of 2010, IBM said it is aiming to hit earnings of at least $20 per share by 2015.
But Brian Marshall, a senior analyst at Gleacher & Company, said he isn't sure this kind of growth is sustainable. He noted that operating margins remained flat in the quarter.
"They talk about earnings of at least $20 per share at the end of calendar year 2015, and if you run the numbers, that assumes 11% EPS growth per year," Marshall said. "We'll see if they can do it, but I don't think it's a slam dunk since they didn't report a huge beat on the bottom line operating margin."
Marshall added that global growth in the quarter received a "tremendous benefit" from a weaker dollar, and said results would have been much less impressive in areas like Europe without that boost.
IBM's businesses include hardware and software development, along with consulting and IT services. So investors tend to view the company's earnings as indicative of overall corporate technology spending and demand.
"Hardware, software and services revenue grew at double digits, and we achieved strong profit and free cash flow growth," Samuel Palmisano, IBM CEO, said in a prepared statement.
Software revenue rose 17%, as did systems and technology revenue. Revenue in the company's service business climbed 10%. Meanwhile, IBM said sales in its cloud computing market are on track to double in 2011.
IBM is the second major tech company to report second-quarter earnings. Last week, Google (GOOG, Fortune 500) posted results that also beat expectations.
Still, it's been a rough year for big tech companies. Shares of Hewlett-Packard (HPQ, Fortune 500) and Cisco (CSCO, Fortune 500) are down nearly 20% this year, while shares of Microsoft (MSFT, Fortune 500) have slipped 6%.
In a further sign of the growth struggle among some of IBM's competitors, Cisco announced Monday that it plans to lay off 9% of its workforce and transfer another 7% of its staff to another company, in a move to streamline its business.
But IBM shares have bucked the trend -- rising 18% in the same period. Its performance also beats that of both the Dow Jones Industrial Average and the S&P 500.
IBM shares were up 2% in after-hours trading Monday, after closing slightly lower at $175.28 a share in regular trading.