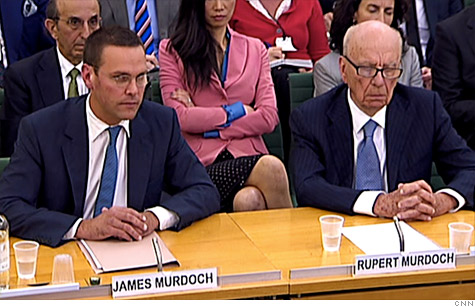 Rupert Murdoch, right, his wife Wendi, center, and son James, left, and other Murdoch family members have lost $750 million from the News Corp. stock plunge.
NEW YORK (CNNMoney) -- The Murdoch family is worth a lot less on paper in the weeks since the News Corp. phone hacking scandal emerged.
The stock price for News Corp. (NWS) voting class B shares, which represent the majority of the Murdoch family's holdings, and non-voting class A shares of News Corp (NWSA, Fortune 500)., have each decreased by about 12% since July 5.
Altogether, this means that the value of the more than 300 million shares owned by Chief Executive Rupert Murdoch and his family trust have declined in value by more than $750 million.
"The stock is trading on huge amounts of uncertainly ... and what will happen in the U.K. and whether that affects U.S. assets," said Laura Martin, an analyst with Needham & Co.
But don't shed too many tears for Rupert and son James. The family's stake is still worth about $5.2 billion.
The losses were lessened somewhat by a 5.5% rally in News Corp. stock on Tuesday. This is despite the fact that Rupert and his son James, who is deputy chief operating officer and potential heir to the corporate throne, testified before British Parliament, where they were dragged over the coals by lawmakers seeking information about editorial misconduct.
Rupert testified that he was experiencing "the most humble day of his life." After more than two hours of testimony, he was attacked by a man wielding a substance that appeared to be shaving foam.
Earlier this month, Murdoch closed down his flagship British newspaper, News of the World, amid accusations that the paper had hacked into the voice mail accounts of missing teenage girl who was eventually murdered, as well as the family member of a victim in the London terrorist bombings of 2005. The accounts of thousands of people, including celebrities and politicians, may have been hacked.
The scandal has resulted in the arrest of ten people, including Rebekah Brooks, a former News of the World editor who resigned last week as head of the company's News Corp. International unit. It has also led to the resignation of Les Hinton as CEO of News Corp.'s Dow Jones unit, which publishes The Wall Street Journal.
In addition, the FBI is investigating News Corp. over the hacking allegations related to the Sept. 11 terrorist attacks - allegations that the Murdochs deny.
A spokesman for News Corp declined to comment for this story.