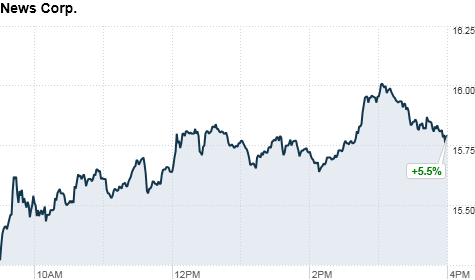 NEW YORK (CNNMoney) -- News Corp. shares rebounded Tuesday even as the media empire's CEO faced questions from Parliament on the company's phone hacking scandal.
Investors shook off images of Rupert Murdoch and his son James fielding questions, and the company's stock price ticked up more than 5%, increasing 82 cents to $15.79.
While the stock was not punished Tuesday, News Corp. (NWSA, Fortune 500) is not out of the woods: Shares have lost almost 13% since the long-simmering scandal was re-ignited on July 5.
In early July, the stock was sitting near 52-week highs at $18.13, but a media firestorm erupted after allegations of widespread hacking surfaced.
It is alleged that News of the World reporters had hacked into the cell phone accounts of celebrities, a 13-year-old murder victim and the families of dead British soldiers.
News Corp. subsequently shelved plans to buy the remainder of satellite TV company British Sky Broadcasting, and announced it would devote $5 billion in cash to buyback shares.
The company's share price has since stabilized, and the stock is up 2.3% over the past five trading sessions.
One reason the fall of News Corp.'s stock has been arrested is that the publishing arm of the company is responsible for a relatively small part of the firm's business.
In the third quarter, publishing accounted for operating income of $36 million, while cable network programming brought in $735 million and the film entertainment division made $248 million.
And the crisis appears to be contained to the U.K.
American authorities have announced some preliminary investigations, but there are no indications that the tactics of News of the World reporters were practiced by any of Murdoch's American publications.
While News Corp. has lost billions in market capitalization since the scandal broke, the company's stock is still up more than 8% on the year.