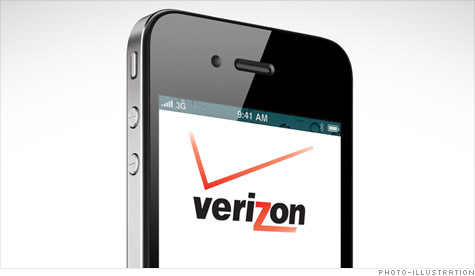 NEW YORK (CNNMoney) -- All that stuff about AT&T iPhone customers itching to switch to Verizon? If it's true, it hasn't happened yet.
Verizon (VZ, Fortune 500) said it activated 2.3 million iPhones in the second quarter, far fewer than the 3.6 million AT&T (T, Fortune 500) activated over the same three-month period.
AT&T said that 24% of its iPhone customers were new to AT&T last quarter. That is a bit of a surprise. Many analysts believed Verizon would attract more new subscribers thanks to the iPhone, while AT&T was mainly going to sell iPhones to existing customers who were due for an upgrade.
Verizon activated just 100,000 more iPhones in the second quarter than it did in the previous quarter. So it appears Verizon failed to take advantage of the fact that the iPhone was available for the entire second quarter. That wasn't the case in the first quarter since Verizon only began selling the iPhone on Feb. 10.
Meanwhile, AT&T activated exactly as many iPhones as it did in the previous three months. But that was up 11% from a year ago -- more than most analysts had expected: Wireless experts felt that many AT&T subscribers would hold off on purchasing iPhones until Apple (AAPL, Fortune 500) unveiled a new version, which is widely rumored for September.
For the first time since the iPhone's 2007 debut, Apple did not release a new model in June. Still, Apple sold a record 20.3 million iPhones in its fiscal third quarter.
Of course, the battle between the two leading wireless networks isn't only about the iPhone. And in all other areas, Verizon stood strong. Verizon Wireless, which is half-owned by Verizon and half-owned by European wireless giant Vodafone (VOD), said it added 1.3 million customers under contract during the quarter. By contrast, AT&T added just 331,000.
Verizon's new high-speed 4G-LTE devices were a big success, The company activated 1.2 million such smartphones, laptops and modems in the quarter. Those strong sales came despite the devices' premium prices above $200.
AT&T said it experienced even stronger growth from Google (GOOG, Fortune 500) Android phones and other non-iPhone smartphones like Microsoft (MSFT, Fortune 500) Windows Phone 7 devices. Ma Bell sold about 2.3 million non-iPhone smartphones in the second quarter, which is more than double the number it sold during the same quarter a year earlier.
Overall, Verizon reported earnings of 57 cents per share on revenue of $27.5 billion for the quarter. Verizon had recorded a loss in the previous year.
The latest result beat the forecasts of analysts surveyed by Thomson Reuters. included earnings of 55 cents per share on revenue of $27.4 billion.
Separately, Verizon also announced that chief operating officer Lowell McAdam will replace Ivan Seidenberg as Verizon CEO. That move was widely expected.
McAdam, whom Seidenberg had bred as his replacement for the past 10 months, will take over as CEO on Aug. 1. The new CEO was named as the company's No. 2 in Sept. 2010, after he had led Verizon Wireless for three years.
Seidenberg will remain Verizon's chairman of the board of directors.
Shares of Verizon were down nearly 2% in early trading.
On Wednesday, AT&T reported that its profit fell 10% to $3.6 billion on revenue of $31.5 billion. Sales were up 2.2% over last year.
Sprint Nextel (S, Fortune 500), the next biggest wireless competitor, is expected to have revenue of just $8.3 billion in the quarter. Sprint will announce its quarterly profit and sales figures on July 28.
AT&T is in the midst of seeking approval for its acquisition of T-Mobile, which would make it the largest wireless provider by far -- 30% bigger than Verizon and more than three times the size of Sprint.