Verizon sells 2.2 million iPhones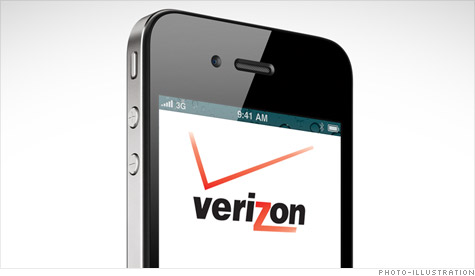 NEW YORK (CNNMoney) -- Verizon announced Thursday that it activated 2.2 million iPhones during the quarter, helping the company more than triple its profit from a year ago.
The wireless division of telecom giant began selling the iPhone on Feb. 10. Verizon only sold the iPhone 4 for 50 days during the quarter, compared to the full 90 days of the quarter that Apple's (AAPL, Fortune 500) smartphone sold on rival AT&T's network.
But Verizon (VZ, Fortune 500) was on pace to sell 4 million iPhones over a 90 day period, compared to the 3.6 million that AT&T sold during the quarter.
Verizon said it added 906,000 customers under contract during the quarter. By contrast, AT&T (T, Fortune 500) added just 62,000.
Some analysts said that suggests Verizon is attracting subscribers thanks to the new iPhone, while AT&T is mainly selling iPhones to its existing customers who are due for an upgrade to a new handset.
"There was an influx of customers wanting the iPhone on Verizon, some of whom were existing customers but many of whom switched," said Todd Day, wireless industry analyst at Frost & Sullivan.
Despite drastic improvements to its network, AT&T has suffered from widely publicized complaints about its 3G service in New York and San Francisco, and it recently ranked worst in a Consumer Reports survey of U.S. wireless carriers. Some studies suggested that about 2.5 million AT&T customers would defect to Verizon once AT&T lost its iPhone exclusivity.
The iPhone will continue to be a heated battleground for the two wireless giants: Apple announced Wednesday that its iconic smartphone is still gaining steam. The device maker sold a record 18.65 million iPhones in the quarter, up 113% from last year.
Both Verizon and AT&T have fought bitterly over smartphone, tablet and mobile broadband customers, since they're one of the fastest growing sources of revenue for telecom companies. The two companies both reported more than $5 billion in wireless data revenue, up $1 billion from a year ago.
Verizon is strongly pushing its new, faster, 4G-LTE network. The company said it has activated 260,000 HTC ThunderBolts, Verizon's first LTE phone, since it went on sale March 17. Those strong sales came despite the phone's premium price of $250.
Overall, Verizon reported earnings of $1.4 billion on revenue of $27 billion for the quarter. Profit grew more than three-fold from the $443 million the telecom company earned during the same period last year.
Verizon earned 51 cents per share, a penny higher than the median estimate of analysts surveyed by Thomson Reuters. Shares fell 2% in morning trading.
AT&T reported similar figures on Wednesday, saying its profit rose 39% to $3.4 billion on revenue of $31.2 billion.
Sprint Nextel (S, Fortune 500), the next biggest wireless competitor, is expected to have revenue of just $8 billion in the quarter. Sprint will announce its quarterly profit and sales figures on April 28.
AT&T is in the midst of seeking approval for its acquisition of T-Mobile, which would make it the largest wireless provider by far -- 30% bigger than Verizon and more than three times the size of Sprint.