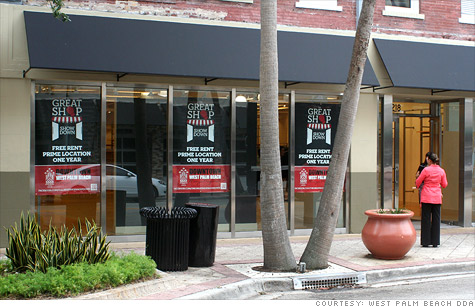 Downtown West Palm Beach is accepting video applications from businesses that want to win a year of free rent on its main drag.
NEW YORK (CNNMoney) -- Cities like New York and San Francisco seem to attract small businesses weekly, but many mid-sized cities have to work harder at it. One way they are doing that is by offering free rent contests.
For a small business trying to get off the ground or expand, free rent for a year can be manna from heaven. And across the country, business development groups are using it to fill up their storefronts left vacant by the recession.
A vacant building "is a missing tooth," said Tom Murphy, a senior fellow of the Urban Land Institute, a nonprofit research and education organization focusing on land use and real estate development. "It creates a dead space. And if there are several of them, it is less of an attractive place to walk."
To fill those places, Jimmy Cerracchio, the director of Business Development for downtown Tempe, Ariz., and a friend, who works in commercial real estate, came up with the idea for a contest.
"Arizona got hit really hard during the downturn," said Cerracchio. A developer terminated a slew of leases with local tenants to make room for big new construction. But the funding for the project got yanked, leaving downtown Tempe with nearly a dozen empty storefronts and an empty movie theater.
The "Mill Avenue Retail Competition" debuted in the summer of 2009 and was only for local businesses. Contestants could be the owner of a startup or have a maximum of two stores.
The contest winner got one year of free rent in exchange for a signed three-year lease. Other bonuses included a year's free membership to the Tempe Chamber of Commerce.
Cerracchio and his team got 20 applications in about a month-and-a-half. They selected Poppa Maize Gourmet Popcorn as the winner. Owned by Roy Wilson and Quiana Shaw, Poppa Maize offers flavored popcorn, such as Backyard Barbeque and Candy Bar Caramel.
Tempe got more than just a new popcorn shop. In the year following the contest, the number of businesses that expressed interest in its downtown surged by 80%. Cerracchio helped bring in about 20 new leases. "We focused on the locals, building up our local community, which in turn sort of lured the corporate guys, too," said Cerracchio.
Winning a year of free rent seems like a great deal, but a year of free rent in the wrong location isn't, said Ken Yancey, CEO of SCORE, a business mentoring organization.
For example, if your business needs evening foot traffic and the downtown area goes to sleep after 5 p.m., then the free rent doesn't pay off, he said. "You need to think about that before you enter."
Word travels fast: Tempe's success with the program made for a compelling lunch-time chat at the International Downtown Association conference in the fall of 2010. So much so, that Kristi Stokes, the president of the Greater Downtown Council in Duluth, Minn., who was at the conference, brought the idea to her team. By January of 2011, she had unveiled the rules for the "Go Downtown Grow Downtown: The Great Space Giveaway" contest.
Fifty-six entrepreneurs submitted applications, most of whom were owners of startups, said Stokes. The plan was to pick two winners, but the committee was so impressed with the entrants that they picked three winners: a glass-blowing gallery and store, a boutique of baby items, and a women's clothing store franchise.
As with Tempe, winners got a year of free rent after committing to sign a lease of three years or more. Duluth faces a vacancy rate between 16% and 18% in retail storefronts, according to Stokes. The property owner is "helping to make a dream a reality for an entrepreneur, and they are filling space and making the downtown a more healthy, attractive area," she said.
The downtown region of West Palm Beach, on the eastern coast of Florida, is running its own version of the contest. The "Great Shop Showdown" is now accepting video submissions on its Facebook page. The prize is a 5,100-square-foot space, formerly occupied by retailer Ann Taylor on the town's main drag, Clematis Street. The winner gets one year of free rent, half of which is paid by the building owner and the other half by the Downtown Development Authority. The winner must sign a five-year lease.
Alejandro Mandelbaum, a co-owner of the family-run leather supplier, read about the contest and went to take a look at the space. He submitted a video pitch for his store Barbarossa Leather, which showcases different kinds of leather and allows customers to design their own leather goods on location.
"Women can come in with their friends and design their own bags, like a little cocktail party," said Mandelbaum.
A year's worth of free rent is exciting, said Mandelbaum. "It allows me to focus on the idea and focus on trying to perfect it and make it work without having to worry about paying the rent."