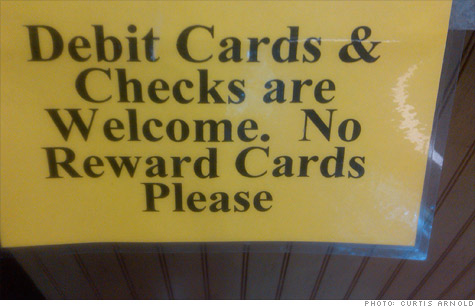 A small retailer -- which asked not to be identified -- hung up a sign requesting that customers not pay with rewards credit cards.
NEW YORK (CNNMoney) -- Consumers love the free flights, gadgets and cash back they get when they pay with their rewards credit cards. But mom and pop stores cringe when they do.
It costs a merchant more each time a consumer pays with -- or "swipes" -- a rewards card than when a consumer pays with a basic credit card.
Forty percent to 70% of credit card transactions are made with rewards cards, said Phil Hinke, founder and president of MerchantFeeSavers, a company that helps small business owners understand processing fees.
Most consumers don't know that merchants are footing the bill for those free airline tickets and other perks. "Very few consumers realize that these interchange fees are what fund these cards," said Curtis Arnold, the founder of CardRatings.Com, a credit card ratings website.
But small business owners sure wish they did.
Small retailers are less able to afford these higher charges. And they may actually be getting a worse rate than larger companies.
Small business owners ''don't have the bargaining power," said Arnold. The "small business owner is paying more -- not only to use a rewards card -- but just to use plastic in general."
Can't live with them, can't live without them: Thanks to a settlement between Visa and MasterCard and the Department of Justice, merchants can dissuade consumers from using rewards cards.
Retailers are free to steer customers to other forms of payment, said Denise Dunckel, spokeswoman for Visa.
And some, like the store with the sign pictured above, do try to persuade consumers to put their rewards cards back in their wallets.
But others don't think they can afford to do that.
Rewards cards holders are a valuable group of spenders.
"There has been very few -- if any -- merchants that have taken advantage" of the ability to direct their customers away from certain cards, said Trish Wexler, spokeswoman for the Electronic Payment Coalition, a Washington D.C.-based group that represents financial institutions including Visa and MasterCard. "When rewards cards customers shop at that merchant's store, they spend more money."
And trying to figure out if a credit card is a rewards card can be a challenge for business owners.
"When our operators are answering the phones or placing an order online, we don't have any way to distinguish what card is a rewards card," said Laura McManus, owner of Chesapeake Fine Food Group in Baltimore. "As long as it is a 16-digit number it is going to process in our system."
She said she would lose customers if she stopped accepting rewards cards. "They are higher dollar spenders and they want something back," she said.