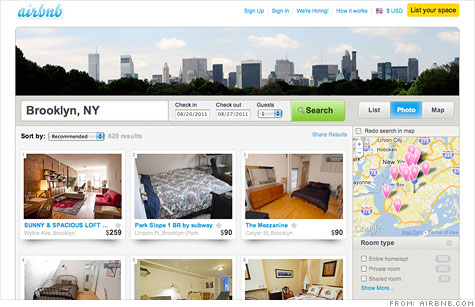 NEW YORK (CNNMoney) -- Vacation rental startup Airbnb has landed a massive new round of financing. The company raised $112 million from venture capital firms Andreessen Horowitz, DST Global, and General Catalyst. According to sources close to the deal, the round values the company at more than $1 billion.
Airbnb is a startup that allows people to rent out their own spaces - everything from an extra room to a private boat, a castle in Italy or a treehouse overlooking the San Francisco bay.
"Over the past three years, we've built a community marketplace for unique properties and brought it into the mainstream and into almost every country on the planet," Airbnb co-founder and CEO Brian Chesky said in a press release.
The three-year old company now features properties in 186 countries around the world and says it has booked over two million nights -- up from a million four months ago.
According to its founders, the latest infusion of cash will be used to hire employees and help the company expand internationally.
"This investment will help us respond to increasing international demand by accelerating hiring, and the opening of offices around the world, in order to support our growing community on more local levels," Airbnb co-founder and CPO Joe Gebbia said.
Airbnb has now raised a total of $119.8 million. Its series A investors included notable investment firms Sequoia Capital, Greylock Partners, and SV Angel as well as actor and angel investor Ashton Kutcher.
"Airbnb's explosive growth and passionate community of users reinforce the uniqueness of what they're doing," Andreessen Horowitz general partner Jeff Jordan said, "and in the same way eBay redefined online shopping, Airbnb is redefining the way the world thinks about accommodations."