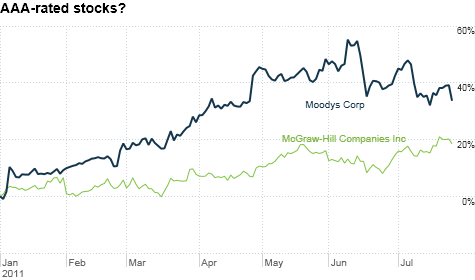 Moody's and Standard & Poor's owner McGraw-Hill have benefited from strong demand for new bonds to rate. But will that change if the rating agencies downgrade the U.S.?
NEW YORK (CNNMoney) -- The big rating agencies may eventually downgrade the debt of the United States. But it looks like Wall Street is already downgrading the stocks of the big rating agencies.
Shares of Moody's (MCO) fell about 4% in mid-afternoon trading Wednesday despite reporting impressive quarterly earnings. And McGraw Hill (MHP, Fortune 500), the parent of Standard and Poor's, dipped more than 1%.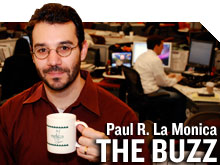 Fitch is majority-owned by French financial firm Fimilac. Fimilac's shares were down a bit in trading on the Paris Stock Exchange Wednesday as well.
With executives from Moody's & S&P fortuitiously appearing on Capitol Hill Wednesday to talk about the impact of financial reform on the rating agencies, is it possible that some of lawmakers' venom is spiiling over to the stocks?

Probably not. The reason Moody's is down is due to its outlook. Plain and simple. The company issued cautious guidance for the second half of the year.
But here's the irony. Moody's and its rivals are likely to face a tougher third and fourth quarter due to the very debt ceiling drama that they are all key supporting players in.
Edward Atorino, an analyst with The Benchmark Company who follows Moody's and McGraw-Hill, said that both companies benefited from strong demand for bond issuance in the second quarter.
Atorino thinks a lot of the new bond issues that came out in the second quarter were pushed up from later in the year. And that was due to worries about what will happen in the credit markets if the U.S. doesn't raise the debt ceiling, subsequently defaults and, you guessed it, is downgraded by the likes of Moody's and S&P.
With interest rates so low in the second quarter, Atorino said many companies didn't see a need to wait to issue new debt.
Doug Arthur, an analyst with Evercore Partners who also follows Moody's and McGraw-Hill, added that Europe's fiscal problems (remember the PIIGS?) aren't helping the companies either.
"We have this dual debt crisis. The best may be behind us for new issuance," he said. "Activity has really slowed in July."
For the most part, corporations (although usually not sovereign governments) pay the agencies to issue ratings on their debt. So a slowdown in the bond market hurts the rating agencies.
It is somewhat sublime that the stern finger-wagging by Moody's and other rating agencies could damage their own businesses going forward. It's even more comical when you consider these companies were all roundly criticized in the wake of the 2008 credit crisis.
Moody's & S&P were loudly chastised for being asleep at the wheel with too-favorable ratings of subprime mortgage securities that turned out to be toxic. So you can hardly blame them for having an itchy trigger finger now.
But Atorino does not think investors are punishing the rating agencies for their sins past and present.
It's important to note that the drop in the two big rating agency stocks Wednesday was taking place on a day when the overall market was down due to worries about the lack of a debt ceiling deal and some uninspiring earnings and economic reports.
If you take a step back, Moody's actually is still one of the better-performing stocks in the S&P 500 this year. Shares are up 35% as investors had already priced in the solid earnings for the first half of 2011. McGraw-Hill, which also owns a big educational publishing division in addition to S&P, is up 20%.
So don't mistake the pullback in Moody's and McGraw-Hill as a sign of shareholder anger. Sure, the rating agencies may be guilty of jumping the gun a bit with their downgrade warnings.
"I don't know why the rating agencies made a big splash about the debt ceiling so soon. They may have created unnecessary anxiety. But I don't think investors are dumping the stocks because agencies may downgrade the U.S.," Atorino said.
Arthur takes it a step further. He noted that Moody's executives are often as gloomy when talking about the company's outlook as their analysts are when discussing sovereign debt problems.
It may be foolish on my part to put Moody's and Apple (AAPL, Fortune 500) in the same sentence. But the weak forecast from Moody's may be just another case of the company trying to talk estimates down so it can crush targets next quarter.
That game of underpromising and overdelivering is one that fans of the iPad maker know all too well.
"Moody's is always cautious on its guidance. You have to take their outlook with a huge grain of salt. Even in the best of times in early 2000 they were cautious," said Arthur.
In the time of chimpanzees, I was a monkey. Time for a Buzz shout-out! I tweeted on Tuesday about how SAP (SAP) stock was surging after the German software maker boosted guidance.
In honor of the company's Teutonic origins, I asked followers to name the tune with this lyric: "Sprechen sie deutsche, baby!"
The answer is "Loser" by Beck. The winner is StockTwits editor Sean McLaughlin, aka @chicagosean. Sean, you are decidedly not un perdedor!
The opinions expressed in this commentary are solely those of Paul R. La Monica. Other than Time Warner, the parent of CNNMoney, and Abbott Laboratories, La Monica does not own positions in any individual stocks.