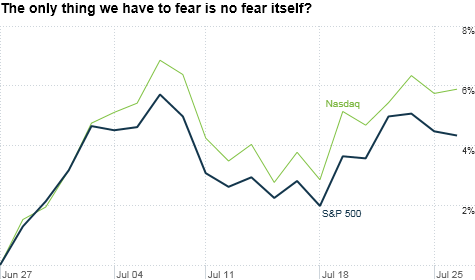 Does this look like a market nervous about the lack of a debt ceiling deal? Despite some fits and starts, stocks have enjoyed a solid month. Click chart for more on markets.
NEW YORK (CNNMoney) -- We're one week away from a potential Default-pocalypse. There appears to be no end in sight to the bickering between the donkeys and elephants.
Yet, stocks weren't down all that much Tuesday. And long-term Treasury bond prices even rose a bit. Move along. Nothing to see here.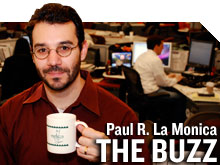 What's it going to take before investors truly become afraid about the possibility that there may not be an agreement to raise the debt ceiling by August 2? The market still has faith (blind perhaps?) that a deal must happen.
"There is a general understanding in the market of how the political system works," said Fred Fraenkel, vice chairman of Beacon Trust, an investment firm in Morristown, N.J. "It's ugly and depressing. But the odds of a default are still very low."
Fraenkel may be right. (I may be crazy.) But I am starting to worry that the only thing that will scare some sense into partisan politicians is for the financial markets to panic. With all due respect to President Obama, angry missives to our members of Congress won't change anything.
We may need a replay of the nearly 800-point plunge in the Dow that took place in late September 2008 after Congress voted against the bank bailout.
That could happen if there is a public vote against raising the debt limit by either of our esteemed chambers of Congress later this week.
But it's more likely if next Tuesday rolls around without a deal to boost the nation's borrowing limit. And Fraenkel said that probably would force lawmakers to quickly reach an agreement.
"When Congress didn't pass tarp at first and investors attacked them, they then very quickly passed it. I hope it doesn't come to that again," he said.
Of course, there's another wild card that could instill fear in the hearts of investors. If one of the big three rating agencies has the stones to downgrade the U.S. before next Tuesday, that could make things interesting.
But would S&P, Moody's and Fitch really want to do something before Tuesday? If the financial markets are still willing to be guardedly optimistic that a deal gets done, wouldn't it be extremely rash for the ratings agencies to force the issue by prematurely removing a triple-A bond rating?
Sure, the rating agencies have been loudly chastised for being asleep at the wheel during the subprime mortgage crisis. But moving too quickly won't make them look good either.
"Ratings agencies most likely are being talked to daily by the White House and Congress and I doubt they want to do anything provocative that would unfurl a Lehman Brothers-like series of events and unintended consequences," Fraenkel said.
There's another reason the ratings agencies may sit tight. Treasury Secretary Tim Getihner is highly unlikely to come out and admit as such, but it appears that the bond market still thinks the U.S. won't default on August 2 even if there is no debt ceiling deal.
As dire as this crisis may be, it still pales in comparison to the more pressing sovereign debt woes in Greece and other troubled European nations.
"The U.S. situation is not analogous to Greece. It's not a solvency problem," said Paul-André Pinsonnault, senior fixed income economist with National Bank Financial in Montreal.
Pinsonnault cited research from the Bipartisan Policy Center that indicates the U.S. may have a little bit of wiggle room with its financial obligations. If payments are prioritized, it's possible the government will have enough incoming revenue to meet interest payments on debt that come due in mid-August, he said.
Still, that's a dangerous game to play, especially with the economy in such feeble shape.
The government reports its first read on the nation's gross domestic product for the second quarter on Friday morning. Economists surveyed by CNNMoney are expecting growth of just 1.8%
If GDP comes in around or below those forecasts, investors may finally be smacked in the face with the following grim reality check. This is already a frail economy that could be on the verge of getting a lot weaker very fast if the U.S. defaults.
But even if the markets decide to shrug off GDP on Friday, hopefully the politicians won't. The country simply can't afford another major financial punch to the gut.
"I am not trying to be Pollyannaish. This has been a noisy debate but I do think a debt ceiling solution will be found before the deadline," said Sandy Cutler, CEO of Eaton, a Cleveland-based manufacturing firm.
"But these are the plain economic facts," Cutler added. "This recovery is far more muted and slower than previous ones."
The opinions expressed in this commentary are solely those of Paul R. La Monica. Other than Time Warner, the parent of CNNMoney, and Abbott Laboratories, La Monica does not own positions in any individual stocks.