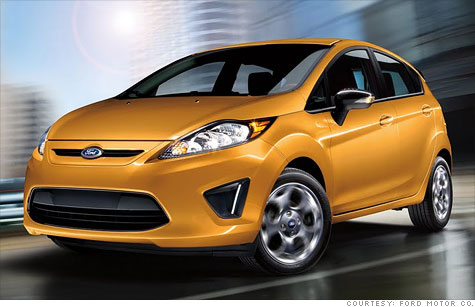 Small cars like the Ford Fiesta, as well as hybrids and electric cars, will play an important role as fuel economy requirements tighten.
NEW YORK (CNNMoney.com) -- President Obama plans to announce an agreement tomorrow on a new round of fuel economy standards for cars and trucks that would require mileage gains through the year 2025.
The proposal is expected to call for all passenger vehicles sold in 2025, combined, to average 54.5 miles per gallon, or nearly double the current figure. They'd ramp up to that level over seven years, starting in 2017 when current rules end.
Environmental groups had been pushing for a 60 mpg fuel-efficiency requirement but industry representatives objected that meeting such a high standard would be too costly.
Under requirements currently in place, the fuel economy of all 2011 cars and trucks sold has to average out to 27.3 mpg. By 2017, when the current rules run out, they will have to average 34.1 mpg.
Each automaker will be given fuel economy targets tailored to the types of vehicles it sells. Automakers like Ford (F, Fortune 500) and Toyota (TM) that sell large trucks and SUVs as well as small cars and hybrids might be given a lower fuel economy target than automakers like Honda (HMC) and Hyundai (HYMTF) that sell no large trucks. And Ford, say, could offset sales of a few V8-powered Mustangs with sales of popular Fiesta subcompacts.
Still, fuel efficiency requirements for pick-up trucks and SUVs would rise more gradually than those for cars. Cars would be required to average a 5% improvement in fuel economy each year from 2017 through 2025, while trucks would only need to rise 3.5% a year through 2021.
The plan amounts to an "agreement in principle" between automakers and the government, but a formal proposal won't be issued until the fall. Then, after a 90- day "public comment" period, details of the requirement will be worked out. Official regulations aren't expected until fall 2012.
Corporate Average Fuel Economy (CAFE) figures like these aren't calculated using the familiar EPA fuel economy numbers seen on new-car window stickers.
EPA figures are adjusted to reflect real-world driving and are typically about 20% lower -- indicating worse fuel economy -- than the figures used to calculate CAFE compliance. For instance, a car that gets 21 mpg according to the EPA window sticker might count as a 27 mpg car for CAFE requirements.
CAFE regulations are jointly administered by the National Highway Traffic Safety Administration and the EPA.
Tougher for smaller car makers
Stricter fuel economy requirements could spell trouble for smaller automakers that lack the research and engineering staffs to come up with new fuel-saving technologies, said industry analyst Dave Sullivan of Autopacific.
Also, smaller automakers don't have as broad a range of models to work with. Their larger competitors can improve their average fuel economy simply by incentivizing sales of smaller cars at the expense of larger ones.
"This could really squeeze some of the smaller automakers out of the U.S. marketplace," he said.
These new fuel economy increases will almost certainly require price increases as automakers add new technology and more expensive lightweight materials to cars and trucks.
To meet the standards, automakers will likely charge more for gas guzzlers, said Motor Trend magazine editor-in-chief Angus MacKenzie.
"A simple rule of thumb is the bigger and less efficient a vehicle is, the more expensive it's going to become," he said.
Higher car prices will be a major concern for consumers, said Jeremy Anwyl, chief executive of the automotive Web site Edmunds.com, in a draft of a letter he sent to the EPA. Anwyl expressed frustration with the secretive nature of the government's discussions with automakers and environmental groups in preparing the new rules.
"The two things that concern consumers most are the availability of vehicles that they prefer, and the pricing of those vehicles," Anwyl wrote.
The biggest challenge will be meeting the demands of American car buyers, who expect fuel economy without substantial compromises, said McKenzie.
"The industry can build these cars, no problem," he said, "but will American consumers want to buy them or drive them?"